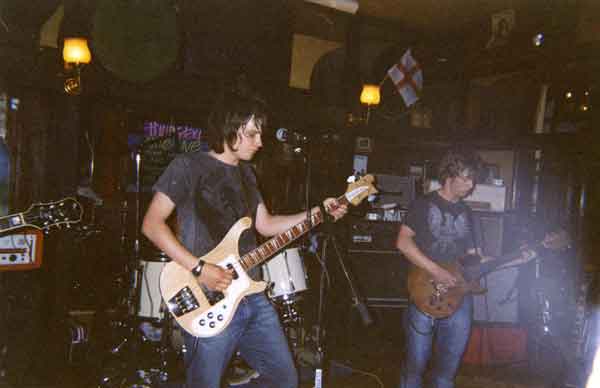 Cast Iron Shores
Live at The Railway
There's an old saying that springs to mind after seeing Cast Iron Shores at The Railway – 'treat 'em mean to keep 'em keen'. Not that I'm suggesting that the band should take the audience out on a date and then lose their phone number, more that on tonight's display the short set didn't just leave the crowd wanting more, it left them craving it.
The Salisbury four piece have certainly developed their stage presence from playing shows around the country and the tight punchy set opened with a run through current EP track 'Blue in the Evening'. The previously reticent crowd was drawn forward to fill the usual no-mans land close to the stage and a few Friday night revellers were even encouraged into some dancing by the toe tapping rhythms.
'Gun' kept the momentum going, although the trademark dual vocal delivery was hampered at the start by the guitarist's microphone being almost inaudible. One of Cast Iron Shores' strengths is that they write catchy, melodic songs that stick in your head and the injection of some new material into the set demonstrated that they haven't lost their touch.
After dedicating a blistering run through of 'Thinking of You' to a brother's 21st birthday celebrations, set highlight 'The Drifter' showcased the reasons this band is starting to realise its potential. Musically it was strong hooks, great melodies, and some tight interchanges between the band while it was so refreshing to watch four individuals who enjoy being on stage and who have fun while playing their music.
Alas, there were only three songs after this to enjoy before the end of the set and judging by the reaction of the audience, I wasn't the only one contemplating missing the last train home if they had played an encore.
I'd certainly recommend seeing Cast Iron Shores live at one of their forthcoming shows
Cast Iron Shores Articles
Discover More Music