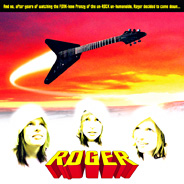 Roger
This is the Shit LP
Roger is the collective noun for thirteen slightly odd people who, in between a busy schedule of annoying the United Nations, have recorded a retro funky-ass album with more tongue in their cheeks than my local fast-food restaurant has in its burgers.
Things kick off with the epic 'Overture', which features a spoken intro in the style of Bony M's 'Rasputin'. This is combined with a looping drum rhythm, fat bass, and funky guitars that prove that rich warm tones rule over the thin, piercing attacks that are often used in attempts at funk music.
The band promote themselves thoroughly throughout the songs; there are more self-references in this track than in a Top of the Pops rap-special and this seems to be one of the aims of the album, with the 'Roger-count' in double figures before the end of the second track.
Things get a little more commercial in 'Ramm It Home', which is my favourite track on the album with its Pink-esque rock backdrop to the funk sound. This track is followed by 'Fonk Hammer', 'Hot Fuddge', 'Clapp Your Fockin Hands', and 'Die Baby Die', which is the most seamless run of songs, sounding almost like a normal album with big hooks and lots of structure.
There are all out spoof tracks like 'Overture' and 'Fonk Wars' in the prominent positions on the disc, but songs like 'Hot Fuddge' and 'Die Baby Die' sound like a serious attempt at funk-rock that just happen to have rather entertaining lyrics that push the 'Roger-count' into the hundreds with similar counts when it comes to sexual references.
The Roger sound can only be described as a whole psychiatric ward combined with the Rocky Horror Picture Show, the B52's, Pink, The Jackson 5, and Bony M. Taken seriously, there are a few great moments of funk, taken in good humour you'll find a whole world of bizarre "fonk".
Written by Smith on
Stuart 'Saur' Smith was a prolific writer for The Mag throughout the magazine's lifetime. He combined a day job of temporary office jobs in London with a nightlife of trawling the capital's music venues looking for talent. As well as writing about music, he was a session musician who featured on a number of singles in the 90s. Today, Stuart is a Chief Writer for Phonotonal.
Discover More Music