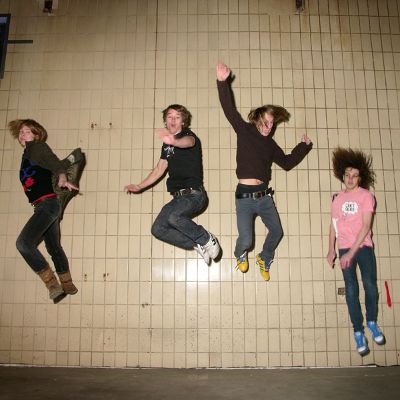 Rival Joustas
Clarity
With a reputation that includes energetic live performances, hooky disco-rock tunes, and jeans that are tight on the legs but pulled half-way down the arse, the Rival Joustas have finally decided to grace us with a demo. Well, better late than never says I. So, what can we glean from this dusty tome that someone's mum has been using as a coaster for the past year?
Well, as the opening riff of 'Clarity' shoots out its entirely catchy web of echoing harmonics, it's instantly clear that the CD player likes this band. Creative drumming backs up the guitar riff with equally impressive bass guitar pushing things along between the subdued verse and crashing chorus.
Blending and distorting the worlds of rock and roll, emo, and whatever else they found in their parents' record collection, this track leaps between fairly distinctive sections that each contain styles, hooks, and sounds in their own right. However, this doesn't prevent things from gluing together to form a rather nifty track with more hooks than a Spanish fishing trip to UK waters.
With a rock riff break and muted verses, 'Killergram' abruptly switches into a disco-beat section before preparing to do it all over again by sticking in a wild bass and guitar run. The chorus is a chunky rocker that gets plopped in towards the end of the track, defiantly ignoring all established song structures.
'Pinch' wallows in shady-verse territory for a good couple of minutes with ambient guitar sounds swirling behind some sombre lyrics. However, around the two minute mark things start building up, picking up speed before landing in a strange break that meanders towards the end of the track.
Comparisons to the Rolling Stones, The Early November, and Led Zep are well deserved, but fall short of describing the sum total of the sounds that the Rival Joustas switch between to create their music.
'Clarity' is an absolute anthem and although 'Killergram' and 'Pinch' fall a little short in terms of class hooks and sing-along moments it's these other songs that show the depth and creativity of the band.
Expect more golden experimental rock tracks with a few pop-rock gemstones thrown in for good measure.
Written by Smith on
Stuart 'Saur' Smith was a prolific writer for The Mag throughout the magazine's lifetime. He combined a day job of temporary office jobs in London with a nightlife of trawling the capital's music venues looking for talent. As well as writing about music, he was a session musician who featured on a number of singles in the 90s. Today, Stuart is a Chief Writer for Phonotonal.
Discover More Music