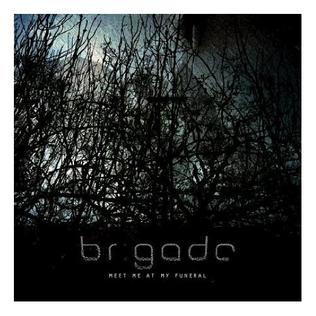 Brigade
Meet Me At My Funeral
For me, it's always been a toss-up between 'Go Slow' and 'Stunning' when it comes to choosing the best song Brigade have to offer. Certainly, 'Magneto' and 'Queenie' have their merits, but it's that total absorption into the music that's created by the instant classics that gets me going.
The great news is that 'Meet Me At My Funeral' sits perfectly alongside the biggest tracks in the Brigade arsenal. It's an urgent riff kicking off a powerful song that really sparkles.
Previously, it's been fair to compare Brigade to a stubbly version of Placebo, the guitars and vocals usually being the triggers. On this occasion though, despite some Placebo-ties creeping in, it's much more… well… ballsy rock.
This song certainly isn't dragging Brigade back, it's more likely to propel them into hundreds of CD players.
Watch Brigade – Meet Me At My Funeral
Written by Smith on
Stuart 'Saur' Smith was a prolific writer for The Mag throughout the magazine's lifetime. He combined a day job of temporary office jobs in London with a nightlife of trawling the capital's music venues looking for talent. As well as writing about music, he was a session musician who featured on a number of singles in the 90s. Today, Stuart is a Chief Writer for Phonotonal.
Discover More Music