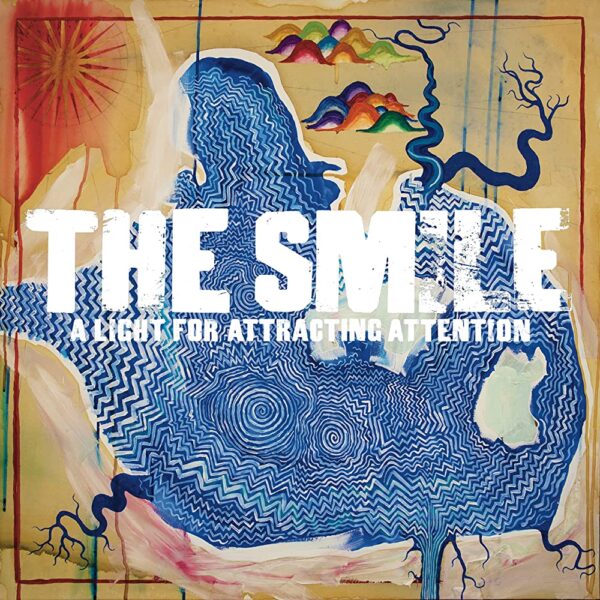 The Smile
A Light for Attracting Attention LP
There are lots of smiles in the music industry. Brian May and Roger Taylor were in a band called Smile before adjusting their lineup in 1970 to become Queen. Seeing a gap in the market for a band named Smile, 1992 saw the band Smile form straight out of Woodbridge High School, with a grunge/psychedelic sound. Not to mention SMiLE.dk, a Eurodance group from Denmark.
We've also had records from The Beach Boys, Katy Perry, The Jayhawks, Ride, Marti Pellow, and The Wannadies called Smile, as well as singles of the same name from Lily Allen, Uncle Kracker, Katy Perry, and Avril Lavigne. Incidentally, Ian Stewart of Brussel Spaceship fame had a later project called Grin.
Our cheeks are exhausted from all the smile.
However, Thom Yorke and Jonny Greenwood along with Tom Skinner, are an immovable force (sic) in terms of music, so it's kinda important we leave behind the overcrowded halls of smiledom and look instead at the music they created outside of their day job of being in one of the greatest bands of all time… and without comparing this record to a Radiohead record.
As you might expect from the lineup, there's a thread of creative genius that punctuates each song like artisanal embroidery. It's very well assembled, as the different moods work together as a complete piece. Yorke's voice is so recognisable that you can't help but feel you are in familiar waters, even though some of the swirling sensations are new. It's an anchor that stops the record falling down the hole in the middle (of the whirlpool, rather than the actual hole in the middle of the record).
There are plenty of actual songs to keep you interested. Some are more eclectic than others, but these might be some of the best ones, like 'Thin Thing' with some tricksy rhythms and scene transitions. In some cases, there's a little delightful hook that compels, like the beat in 'A Hairdryer', though it does feel like the song needed to explode for a moment or two at some point. It builds and builds but the preparation doesn't produce the expected result. I guess it would have been too obvious, but expect to feel unfulfilled as the Beatlesy outro supplies more than a minute of ambient tease.
After pushing you onto your knees in the gravel, the band turns nurse with incredibly satisfying songs, like 'The Smoke', 'We Don't Know What Tomorrow Brings' or 'You Will Never Work in Television Again', which are instantly enjoyable. These are the songs that will cause you to play the album frequently enough to fall in love with the other material. For me, 'Speech Bubbles' is the special one, but for you it may be different.
The album isn't entirely safe from accusations of self-indulgence. It has a kind of twisted attitude to making sonic promises it later refuses to fulfill. In some respects, that's what makes it so good. It challenges your neural music module by dodging the expected pathways, which can only make you musically richer.
This is an album that pushes buttons, refuses to do what you want or expect, and still delights.
The physical release of A Light for Attracting Attention is scheduled for 17th June 2022.
The Smile Articles
Discover More Music