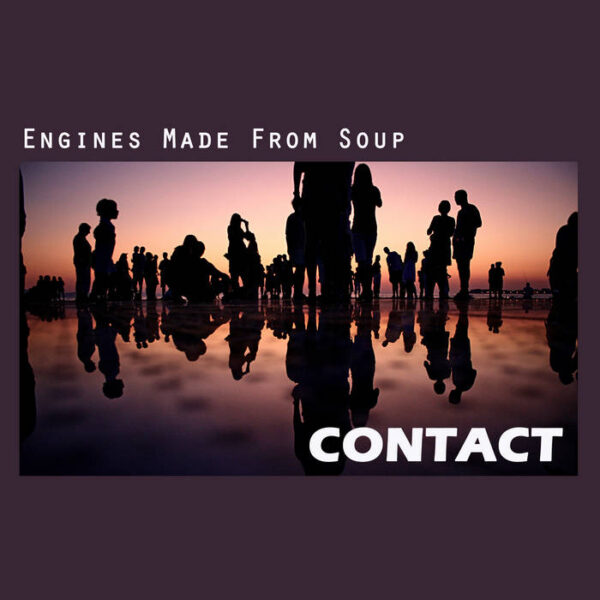 Engines Made From Soup
Contact LP
Arriving on January 6th, Contact is the second long-player from Engines Made From Soup, following up on their 2020 release, Again. There are many different facets to this record, so let's run through all the songs to find out what's on offer.
The album beings with 'Music' (obviously, but in this case, it's the song's title), which has heady James feels in its indie spins.
'Contact' is darker, with a throbbing bass tone, INXS-style rhythm, and stabs of guitar. This song conjures an urban sleaziness that works well with the mix of whispered vocals and melodic howls. This is an off-the-wall composition, which I appreciate a great deal. There are echoes of this style in the quirky 'Dig' later on the album.
Enter 'Reincarnated Brontë Sister', which sounds like a lost Strangelove single. The instruments feel muted in this song; the guitars spin a nice tune that might cut through with a little more clarity. However, the atmospheric song expertly hits that alternative British indie sound.
There's more than a hint of pop in 'Take 2', which can best be described as Roxette meets Happy Mondays with a Pet Shop Boys and Placebo b-side twist. It doesn't push the 90s dance flavour too much, and I can't decide whether this is for the best or whether an insane both-feet-in approach might also have worked! In any case, it certainly creates a thematic shift.
The piano stars in the introduction to 'Life Goes On', a ballad with enough of a painful twist to make it sound real. With the addition of drums and guitars, the song thickens up, and the harmonies further enhance this development. Towards the end, it feels like a folk song with a creative new-wave slant. My ears start imagining Martin McCarrick squeezing the old accordion while Jon Klein provides a haunting guitar soundbed.
Onto 'Clear', which is a pleasant indie rock track akin to The Housemartins with a warm hazy shimmer. This strongly contrasts to the aforementioned 'Dig', which has more of an overdriven grind.
'Peruvian Volcanica' is a hooky song with its synth motif elevating the verses and a strangely smooth chorus that makes the guitar that follows sound even more sparky and energetic.
The most recent single, 'The Lemming Trail' is followed by final track 'Homeless', which features a great piano piece and a sombre vocal. The intensity increases throughout the song, and some melodic movements are reminiscent of Radiohead.
There is no single dominant influence or style on this album. It's a rich combination of different styles and references from several decades of alternative, indie, and rock music. That's what makes the album so interesting to me. The songs I keep going back to are 'Music', 'Contact', 'Life Goes On', and 'Peruvian Volcanica'.
Engines Made From Soup have crafted a fine and unusual album with Contact.
Written by Fenton on
Steve Fenton writes in our music, words, and culture categories. He was Editor in Chief for The Mag and covered live music for DV8 Magazine and Spill Magazine. He was often found in venues throughout the UK alongside ace-photographer, Mark Holloway. Steve is also a
technical writer and programmer
and writes
gothic fiction
. Steve studied Psychology at OSC, and Anarchy in the UK: A History of Punk from 1976-1978 at the University of Reading.
Discover More Music