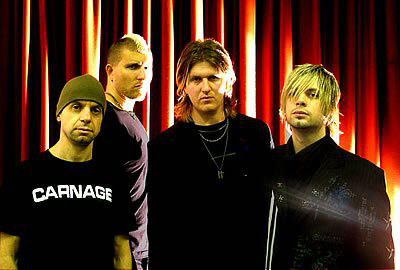 Schism didn't turn up. That really doesn't win them any favours when you've turned up to review them.
The reshuffled line up began with Careless, who started the riot with an explosive maul that would keep a phsychiatrist employed on a permanent basis for a month. High points included an ear-ripping rendition of '25 Feet Per Second', which is an amazing song by any standards.
Careless has a loyal and dedicated following who often fill up the Joiners – and this was no exception. When the band give one-hundred percent of their energy every time they play, the fans don't mind seeing them time and again.
Short-notice headliners, Rat:Daddy, blew me away. Not being one who gets stuck for words, I found that I lost the ability to articulate even the abundant praise that this band deserved. They kicked off with a song called 'One Track Mind', hooked me into their anthemic rock, and kept up the game of delighting me for their whole stint on the woodwork. There is nothing missing here, music, songs, image, hooks, and thrusting. (Yes, there was a lot of thrusting.)
This band needs to be seen if you want to appreciate the sum of these parts, so don't miss them if they play within fifty miles of you because you will be missing something from the very fabric of your being!
Rat:Daddy didn't just blow me away, they blew up the stage as well, which called an abrupt end to proceedings and left every single punter wanting a heck of a lot more. Get your self in contact with this phenomenon as soon as you can.