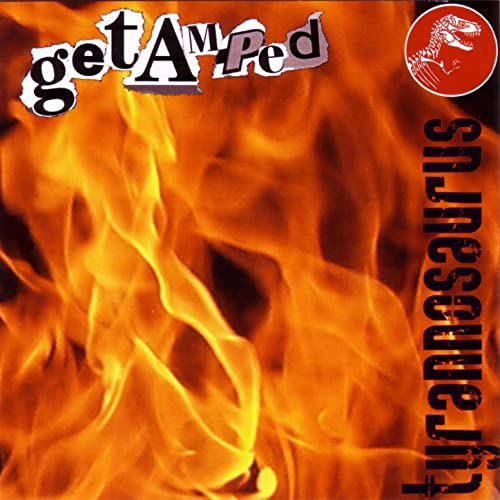 Get Amped
Tyrannosaurus (Video)
Following hot on the tail of the success of last year's single 'Too Far', they've signed to indie label, Stronglikebull Records, embarked on an extensive tour of the south's venues, and have managed to record both the tune and the video for the first single from their forthcoming album, tentatively called 'Postcards from Hell', due out in August.
Shot in a disused theatre in West London, the video is a dark brooding affair being in contrast to the happy, colourful effort knocked up for 'Too Far'. Mainly centring on the band's performance to the non-existent audience, the video is cut with segments of Rick (touched up with a bit of Ozzy style eye make up) first loosing it in an incredibly thin kitchen and then in the bollocky buff, crouched in a desperate embrace.
With not a smile to be found anywhere this probably wasn't the sort video people would expect to follow 'Too Far', however when you start listening to the song itself it all starts to make perfect sense.
Opening with the sort of killer riff we've come to expect from Tim, Dougal's pounding drums immediately underline the serious intentions behind the song while still managing to retain that all important foot stomping beat. Cue Rick's vocals and what on the first listen seems like the usual angsty lyrics of a young rockin band, turns into something far more relevant and immediate by the second play. Take the anthemic and hauntingly delivered line 'they say the sun will bleach us ashen grey and the sea will wash our sins away' and it suddenly becomes clear what this tune is all about – our impending environmental doom.
To palm Get Amped off as another boy band, whose good looks and infectious tunes are all they have to offer, would be a great injustice. This is a band that have all of the above but also possess a sharp political and social awareness which makes them, not only good fun, but important. 'Tyrannosaurus' illustrates this point beautifully.
Killer riffs, thought provoking lyrics, and a broody and desperate video all come together for yet another top-notch effort from one of the south coast's brightest hopes.
The single is released on 25th April 2005 and at the time of going to press there is just a handful of tickets left for the single launch party at the Mean Fiddler (LA2) on 15th April 2005 – get them before this band goes stella!
Written by Habert on
Pete Habert was sub-editor for The Mag and co-ordinated submissions from the swarm of writers that contributed articles from their local music scenes.
Discover More Music