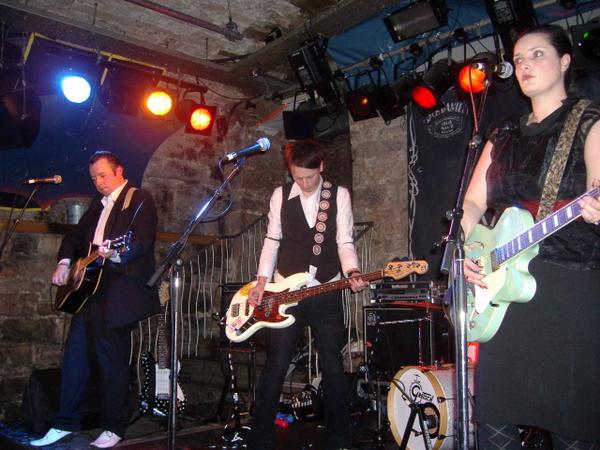 Saint Jude's Infirmary
Live
Playing at 'Dolly Mixture', a night that gives away free sweets and heralds the success of females in music, St. Jude's Infirmary rolled into Glasgow to win over a crowd buoyed by alcohol and e-numbers.
Opening track 'Montreal' has been re-worked, becoming a more introspective and reflective song as opposed to its previous pop incarnation. The new version works well as an introduction to the set. The song also contains fantastic lyrics, conjuring up images of your favourite place and feelings of endless exploration and awe. Clearly this is not a band to be confused with your standard run-of-the-mill indie breakthrough act.
Musically, the band carries many influences from 60s pop, 70s swagger, and 80s fuzz; but rarely seem constrained by any expectations of what they should be. The bass almost strolls through the songs, at times underpinning the tracks and at others sounding as though it came in from a different song. Either way, there is always an air of confidence that it knows exactly what it should be doing. If that wasn't enough, the lilting contrasting vocals of Emma and Ashley combine to lift the songs beyond the realms of their contemporaries.
For new bands the tricky areas in gigs are often the middle, with the crowds' initial interest or enthusiasm sometimes ebbing away unless maintained. To their credit, the band kept a fairly consistent pace and quality throughout the set with 'St Jean' and 'A Million Days in Fife' containing enough confidence to belie the bands status and send customers to the merchandise stall to buy the home-made EPs on sale.
On nights like this, it can be hard to judge who in the crowd is present for the band and who is out just for the event. Given that St. Jude's carry with them a sense of menace, the dark clothing (Ashley's summer attire excepted), the skull and crossbones, and the intelligence of the lyrics, it may appear that St. Jude's have no interest in winning friends, but that would be wrong.
Sometimes bands can come across as too desperate for public affection but when you've got melodies and riffs as plentiful as this band, there is no need to go cap in hand to the audience looking for approval. That said, as the gig wore on, the crowd grew more appreciative and the last song of the night featured some impromptu dancing at the front of the stage.
The night's final track, 'Little Sparta', was a bewitching upbeat track that galloped to the end with a jaggy insistent rhythm and a melody that sounds instantly recognisable, but just unique enough to avoid comparison.
Given their style and the music industry's continual habit of overlooking quality non-mainstream acts, it may be that Saint Jude's Infirmary will forever be a critic's band and the one that got away. There are many worse fates that could fall to a band but on current showing, they definitely deserve a chance to go as far as their ambitions and dreams will take them.
Guest article from Andy R. Photograph: John Collins.
Written by Guest Writers on
Between 2003 and 2009, [the-mag] had regular contributors from music correspondents covering their local scene. You'll find them all in the guest writers section. The specific writer is mentioned at the bottom of each article.
Discover More Music