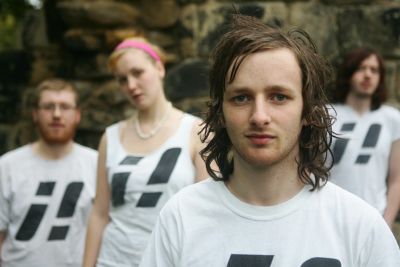 Forward Russia
Live (Samsa / I Like Trains)
The night was kicked of by Yorkshire band Samsa, the opening support for the tour. Samsa are a band that share a similar sound to that of Muse – soft yet hard hitting alt-rock – but unfortunately they don't quite have the same stage presence or performance.
As individual musicians, Samsa seem very competent. But it's their songs that lack, what Monsieur Henry would call 'Va Va Voom', or what Vinnie Jones would label 'Bollocks!' They just gently coast through the set filling the time.
With a now almost full capacity crowd the Yorkshire assault on Cardiff continued with the alternative, yet brilliantly eclectic, iLiKETRAiNS. Taking to the stage they received an immediately apparent better response and responded with a much more professional show, consisting of a brass section and a live visual show synchronised with the music. Suffice to say iLiKETRAiNS are certainly a band that has just graduated from the new school of 'prog-rock' with other fore-runners such as Sigur Ros and Hope of the States.
The band played an excellent, faultless set showing passion with every heavy chorus and tremendous musicianship with every mellow middle eight leaving everyone with the impression that they are definitely a band set to be big in the future.
Now the next three words sum up the headliners performance tonight – Electric, Immense, and WOW!
Forward Russia finished the night with an absolutely tremendous set consisting of dirty disco beats, hectic dancing and trance synthesiser melodies. It therefore came as no surprise to find that this lot are rapidly establishing themselves as a serious name on the scene.
The band started their Indie-Disco set by finishing the first song with a question to the crowd 'Don't people dance in Wales?' This kicked the dull-toe-tapping crowd into what can only be described as a limb throwing dance-off, encourage by the hectic dancing of lead singer Tom running into the crowd and dancing with the fans and guitarist 'Whiskas' mounting the club's PA – pure rock 'n' roll with oodles of stage presence. The dance hits then just kept flowing with the looping bass lines from Rob and constant bass drum bashing by the beautiful, and soon to be a top 'Indie-babe', Katie.
Forward Russia are an absolute must see, so try catch them on tour. You won't see a better live act, if only for entertainment value, this year!
Guest article from Paul B.
Written by Guest Writers on
Between 2003 and 2009, [the-mag] had regular contributors from music correspondents covering their local scene. You'll find them all in the guest writers section. The specific writer is mentioned at the bottom of each article.
Discover More Music