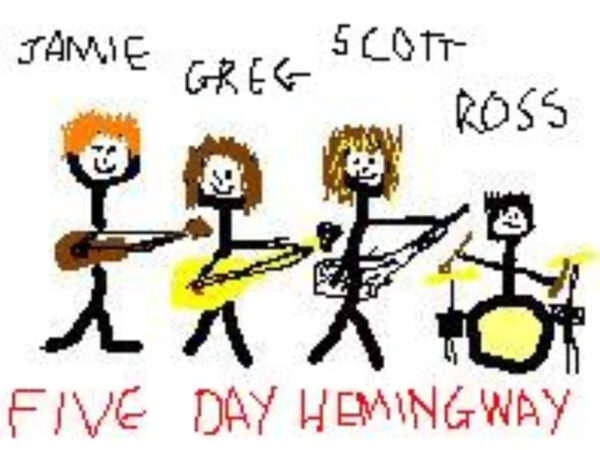 Five Day Hemingway
Live
It was the first day of the smoking ban and, contrary to my grave fears that the smell of smoke in drinking establishments would be replaced with body odour, fart and urine, The Bongo Club smelled like… Sunday lunch. A rich meaty cooking smell prevailed and it was slightly disconcerting (not that I'd rather it'd smelled like fart). The night was wet and miserable, but that didn't stop the dedicated smokers (you know who you are) jeopardising their hairdos for a nicotine fix outside.
Five Day Hemingway were four in number but luckily looked nothing like the cartoon effigies I'd seen on Myspace – their eyes were aligned for starters. The three guitarists stood in a row at the front of the stage giving the impression they'd fought over who should be frontman and come up with that solution. It made it a bit of a headache looking between them all, but as all three sung for most of the set it seemed to make sense. Extra points for the novelty butler uniform t-shirt – a little bit of humour goes a long way especially with the number of bands taking themselves all-too-seriously these days.
Five Day Hemingway played guitar-based indie-pop, with lots and lots of vocals and the odd handclap – carried off in the face of adversity. They delivered sing-along melodies with strong harmonies, making good use of percussion in an all-round crowd-pleasing performance – you could practically feel the warmth exuding from the audience.
Their feel-good music was a breath of fresh air on an otherwise very depressing Sunday evening: genuine and heartfelt with a hopeful take-home message, which I've stashed away for ( another) rainy day.
Five Day Hemingway are talented, interesting and as cute as isn't patronising. Like Arctic Monkeys after elocution lessons and Coldplay with a bit more backbone.
Guest article from Laura S.
Written by Guest Writers on
Between 2003 and 2009, [the-mag] had regular contributors from music correspondents covering their local scene. You'll find them all in the guest writers section. The specific writer is mentioned at the bottom of each article.
Discover More Music