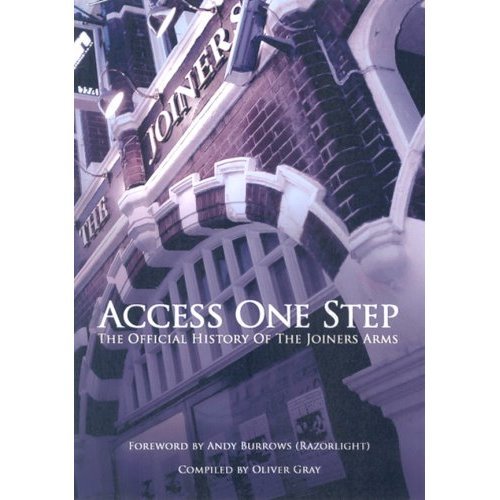 Oliver Grey
Access One Step: The Official History of the Joiners Arms
Collated by Oliver Grey, 'Access One Step' is a historical record, not so much of The Joiners Arms, but of the people that turned a dingy pub with sticky floors into something of a national treasure. Personal testimonies and anecdotes from musicians, promoters, former landlords and local heroes make up the majority of the chapters with notable contributions from Razorlight's Andy Burrows, Delays' Greg Gilbert, the infamous Pat the Doorman, and our very own photographer, Mark Holloway.
What's surprising, with so many contributions, is that each chapter flows together rather well. It doesn't feel like you're reading the thoughts of lots of different people because they all clearly share a love of the venue – whether it was during the jazz era, cover-band years, or the next-big-thing period.
On top of the various eye-witness accounts, there's a handy thirty-year listing of all the headline bands that played the venue, which supplies hours of fun for punters and musicians as they scan the listings to find out the exact date they saw Oasis, Green Day, Skunk Anansie or Toupe or indeed to see their own band listed amongst the pages!
The Joiners (as it's now known without the 'Arms') may not have the instant rock and roll temple recognition as Liverpool's Cavern Club – but the sheer number of bands that have stuck their arses to the clapped-out sofas in the underground green-room before making it big surely puts it in the same league.
If you've ever felt that special-something seeping out of the walls of The Joiners, you'll want this book.
Written by Fenton on
Steve Fenton writes in our music, words, and culture categories. He was Editor in Chief for The Mag and covered live music for DV8 Magazine and Spill Magazine. He was often found in venues throughout the UK alongside ace-photographer, Mark Holloway. Steve is also a
technical writer and programmer
and writes
gothic fiction
. Steve studied Psychology at OSC, and Anarchy in the UK: A History of Punk from 1976-1978 at the University of Reading.
Discover More Words