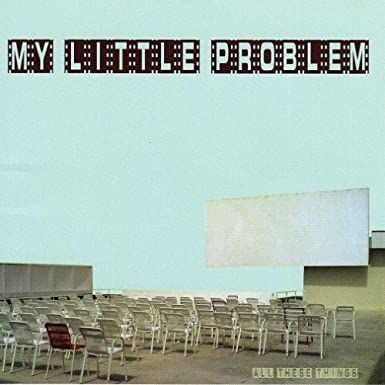 My Little Problem
All These Things
From ultra-lo-fi origins, My Little Problem has now evolved from the solo-bedroom antics of Simon Janes (stop it!) into an eight-piece full-band lineup.
'All These Things' is a shoe-gazer indie track with added banjo. Not exactly your usual lineup, granted, but not quite as alarming as it sounds either. There is definitely something odd about this track. I can hear a little something dodgy and it sounds very much like an off-note, which is really distracting – but the angelic oohs and aahs are a nice feature.
The solo b-side, 'Lazy', lurches into the slow canter of the country plains and remains firmly a how-de-do-de song throughout.
There isn't much wrong with My Little Problem, but I do have to say that the vocal failed to do very much for me on this record. It didn't convey the emotion or underpin the lyrics and Simon doesn't have a particularly distinctive voice either – something of a toned-down George Harrison in The Beatles' 'Blue Jay Way' with far too many vocal layers and not enough punch.
Maybe this record is stuck a bit between the early lo-fi tendencies and the more recent studio polish?
Written by Fenton on
Steve Fenton writes in our music, words, and culture categories. He was Editor in Chief for The Mag and covered live music for DV8 Magazine and Spill Magazine. He was often found in venues throughout the UK alongside ace-photographer, Mark Holloway. Steve is also a
technical writer and programmer
and writes
gothic fiction
. Steve studied Psychology at OSC, and Anarchy in the UK: A History of Punk from 1976-1978 at the University of Reading.
Discover More Music