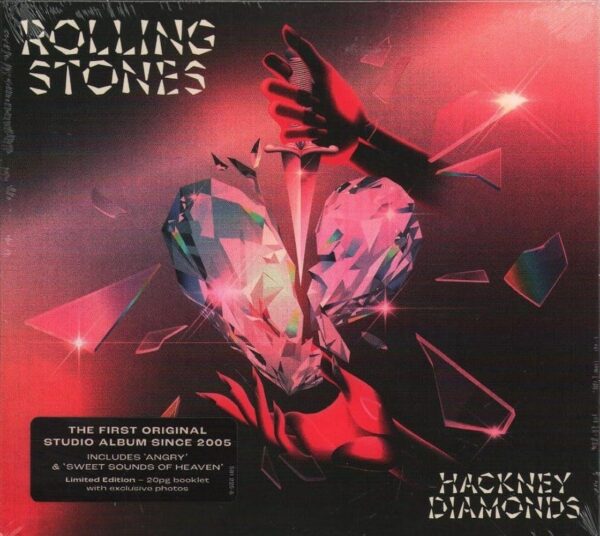 The Rolling Stones
Hackney Diamonds LP
I'm not entirely neutral on The Rolling Stones. In my formative years, I had a portable cassette deck. Not a Sony Walkman (though I got one later), but a cassette deck with a built-in speaker and a handle. Not only did this open up the world of mix tapes from friends, but it also opened up the tape collections in the second-hand sideboard in my parent's council house.
Much of what I found within I consumed and placed back. But amongst the seemingly random selection of music I found the complete collection of The Beatles, in a blue box featuring the Fab Four's signatures in gold inlay, and a copy of Let It Bleed by The Rolling Stones.
I played all these tapes far too much and then drifted away into other things. Within a decade, I had been ruined by a punk mix tape featuring the likes of The Sex Pistols, Protex, Stiff Little Fingers, and The Clash. Then a mix tape jammed full of The Cure, Siouxie and the Banshees, The Mission, and Bauhaus redirected me into Goth subculture. Just as I started playing in bands, I discovered Therapy? and I suppose I lost touch with the early discoveries.
But… The Rolling Stones
Despite all this, you can never really forget The Stones, especially when your first experience was an album like Let It Bleed. I'm pretty sure it's one of their most iconic records, though people tend to reach for Sticky Fingers because it has 'Brown Sugar' and 'Wild Horses'. The song that stuck with me was 'You Can't Always Get What You Want', the blown-up dramatic arrangement that closed the album.
And I mention all of this… many paragraphs of self-indulgent reminiscence, because despite all my preconceptions of what a new album from in 2023 might be like. In a recent interview, Richards spoke about how Mick Jagger's enthusiasm for making new music has waxed and waned, Keith Richards has been forced to adapt his playing to accommodate his arthritis, and there's a desire to get the record out on tour while folks are 'still standing'.
But despite everything, Hackney Diamonds reminds me very much of The Rolling Stones around 1969. It doesn't sound aged and fragile. It sounds punchy and dynamic. The style is, of course, shaped in their image. It's blues rock, Jagger's voice is instantly recognisable.
Hackney Diamonds Credits
The current Stones line up of Jagger, Richards, and Wood are joined on this album by former bass player Bill Wyman and the late great Charlie Watts, who recorded some tracks before his death in 2021. Along with past Stones, there's a banquet of talent contributing to one or more of the songs. Paul McCartney, Elton John, Stevie Wonder, Lady Gaga, James King, Benmont Tench, and Andrew Watt – who also produced the album.
Crucially, the collaborations haven't turned the record into a catwalk of jarring styles and directions. This is very much The Rolling Stones and without the inlay card you wouldn't leap up to name the collaborators.
The Best Songs on Hackney Diamonds
Do I even dare pick a handful of songs to highlight? Absolutely. Let's start with 'Angry', which was one of the singles used to promote the album. It's got hand claps, a smoking solo, and a great vocal. That's definitely on the list. With a crispier crunch, 'Get Close' is a great track and the lyrics are a classic slice of storytelling.
The stomping drive of 'Bite My Head Off' has to go on the list with its 'Why you bite my head off?' call. Then there's the darker edge of 'Whole Wide World', which has an angrier downtrodden hopefulness.
The combination of vocals from Jagger and Gaga in 'Sweet Sounds of Heaven' is certainly a highlight. Stevie Wonder adds keyboards and piano, and Ron Blake and James King deliver the brass. It's a big track for sure.
There are also some nice stripped-out bluesy moments in tracks like 'Dreamy Skies' and 'Depending On You'.
Yep. Plenty of good songs on this album!
What Are Hackney Diamonds?
Perhaps more commonly known as Dalston Diamonds (Dalston being an area of Hackney, East London), Hackney Diamonds refers to broken glass from a car window, often caused by someone breaking in to steal your cassette player.
The band explained the name choice to Jimmy Fallon at the Hackney Empire.
It got called 'Hackney Diamonds' because we were flinging ideas around for titles, and we went from 'Hit And Run', 'Smash And Grab'. And somehow, between that, we came up with 'Hackney Diamonds' which is like a variation of them both. Also, it's a London band.

Keith Richards
Yeah, it's like when you get your windscreen broken on Saturday night in Hackney, and all the bits go on the street… that's 'Hackney Diamonds'.

Mick Jagger
Watch The Rolling Stones on Jimmy Fallon.
Sweeping Up
So, there you have it. The Rolling Stones waited a full 18 years between original studio albums but then delivered something that was worth the wait. They've also got enough tracks in the bag for a potential follow-up – though they plan to tour this one first.
Hackney Diamonds was more vibrant, energetic, and exciting than I imagined. I hope, with sincerity, that folks can listen outside of their age range with this album as there's something in here that could inspire some of that all-important 'roll' in a new generation of rock and roll.
Watch The Rolling Stones – 'Angry'.
The Rolling Stones Articles
Written by Fenton on
Steve Fenton writes in our music, words, and culture categories. He was Editor in Chief for The Mag and covered live music for DV8 Magazine and Spill Magazine. He was often found in venues throughout the UK alongside ace-photographer, Mark Holloway. Steve is also a
technical writer and programmer
and writes
gothic fiction
. Steve studied Psychology at OSC, and Anarchy in the UK: A History of Punk from 1976-1978 at the University of Reading.
Discover More Music