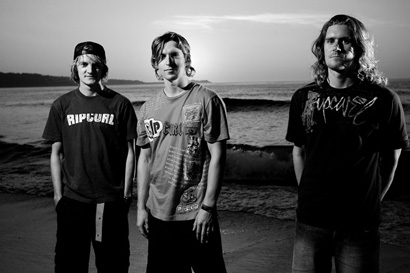 Get Amped
Live (Con 23)
Tonight was the launch gig for Get Amped's incredible 'Phoney Society' LP at Mr Kyps, Poole.
Solitary support band, Con 23, were so tight they squeaked. Playing a series of pop-formula songs with plenty of energy and determination.
Musically there was nothing to fault, although it is unlikely that Con 23 will ever be described as pioneers. It would be unfair to criticise them for taking the candy-pop route as they do it very well and it would be worse for them to play contrived technical songs that were deliberately obscure when they naturally write pop anthems.
With that in mind, the only downside was in their slightly unnatural performance. There was a Lee Evans quality to the bass players self-posturing and, although he was a brilliant bass player, no one seemed to know that better than he did himself.
Con 23 have got the potential, ability and material to get somewhere and all they need is a more relaxed and natural performance to complete the kind of package that would be loved by kids who get to old for Busted.
Headliners Get Amped, opened live as they do on the LP with 'Celebrity', which is a great summing up track for the band with all of the diverse influences playing a part at some point in the song. The live performance was rougher around the edges than the album, but things improved steadily as the initial nervous tension gave in to the adrenaline rush of the performance.
Half way through the set, Tim and Rick swapped instruments and with Rick on Guitar the whole chemistry of the band changed and the performance became more dynamic, with Tim really coming out of his shell to rock us all with a thundering bass line.
Stand out song for Get Amped was 'In the Dark', which featured some real gutsy vocals and an instantly recognisable anthemic chorus.
It is fair to assume that these guys are going to get better and better every time they play. They already have a set stuffed full of interesting, sometimes complicated, but always hooky material and they have the ability to take it all the way.
Written by Fenton on
Steve Fenton writes in our music, words, and culture categories. He was Editor in Chief for The Mag and covered live music for DV8 Magazine and Spill Magazine. He was often found in venues throughout the UK alongside ace-photographer, Mark Holloway. Steve is also a
technical writer and programmer
and writes
gothic fiction
. Steve studied Psychology at OSC, and Anarchy in the UK: A History of Punk from 1976-1978 at the University of Reading.
Discover More Music