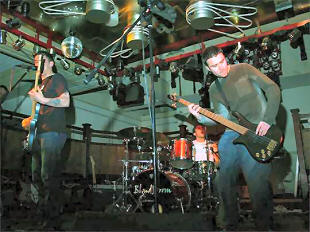 Blind Storm
Blind Storm EP
Blind Storm are a three-piece indie/rock band from Buckinghamshire. With influences such as Pink Floyd, The Beatles, and Oasis making an appearance on their accompanying letter, you can forgive me for cringing slightly as I put the disk in the CD player as I waited for the strange drone that might result from this unholy combination.
However, this isn't actually a band that sound very much like their advertised influences and the opening track, 'Disappearing Act', makes all my fears and worries (and naughty misconceptions) do just that! It opens with a pleasant guitar that re-emerges throughout the song to plant it's roots in the subconscious. However, the chorus is the part of this song that's going to make it one you want to play again. Weighing in at under four minutes, this is a song with enormous appeal – and it doesn't overplay it's hooks.
The chorus of the second track, 'Alive', demonstrates again that Mark Newell knows how to place a memorable melody. The solo adds a little flourish to the song.
Similar in style to the opening tracks, 'Circles' and 'Get High' are definitely indie by nature with hints of rock coming through at moments to put an edge on the style. 'Take Me Away' has a darker edge than those tracks in it's intro and it features some great soaring vocals. The wah-wah guitar creates an intense atmosphere towards the end of the solo.
'Indian Summer' is the track that steps aside from the sound of all the previous songs with a moody drum beat and purring bass line. It feels like it might build up a la 'Burn' by the Cure, but the explosion that you brace for never arrives with more of a fizzle at the end of the song rather than a bang.
Blind Storm have plenty of references to getting high and equally as many hooky chorus lines and smokey guitar solos. If I had to pin a comparison to another band on these chaps, it would have to be to say that they are the indie cousins of Northern Uproar. The songs can be a bit formulated, with intro, verse, chorus, repeat, and solo structures, but the sound doesn't suffer much despite this. This is a band I wouldn't mind hearing more.
Blind Storm Articles
Written by Smith on
Stuart 'Saur' Smith was a prolific writer for The Mag throughout the magazine's lifetime. He combined a day job of temporary office jobs in London with a nightlife of trawling the capital's music venues looking for talent. As well as writing about music, he was a session musician who featured on a number of singles in the 90s. Today, Stuart is a Chief Writer for Phonotonal.
Discover More Music