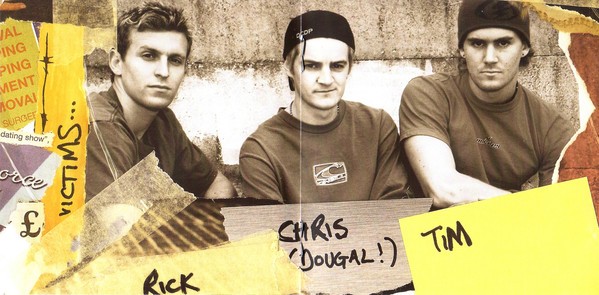 Get Amped
Too Far (Video)
At the time of writing some of you are probably aware that Get Amped's 'Too Far' is doing great business on the download chart. However, I'm chuffed to say right now it is sitting pretty at number four on the 7digital download chart, which means they are only, literally, a few downloads short of hitting the Top Forty proper.
Not bad for a first single! However, those of you who have already downloaded this track will already know that this tune is more then capable of propelling Get Amped into the Premier League and if it doesn't, well those who are in possession of Get Amped's debut album, Phoney Society, will feel reasonably smug in the knowledge that there at least another five or six equally brilliant tunes which could quite easily do the job.
Suffice to say that with a veritable salvo of radioactive tipped tunes it is only really a matter of time before the chart is assaulted.
However, as the band themselves refer to on the album, it's no longer just about the music, as marketing and predominantly image, are just as important in today's superficial mainstream media. Indeed, a good song can't get anywhere nowadays without a good video to throw at the raft of digital music channels on offer and so popping my Barry Norman hat on, here's what you can expect to see on telly near you, soon.
Starting off with the classic "we've got an empty warehouse and we're going to use it" scene, the first thing that strikes you is that these boys are certainly not scared to get their kit off. In fact, safe in the knowledge that they each possess a pair of pretty impressive pecs, you get the feeling they positively enjoy it!
All very well and good for keeping your girlfriend entertained but what about the boys? Well I'm happy to report the sighting of two well oiled and delicately pierced page three stunnas' who pop up sporadically clutching several wads of cash and wearing nothing but close fitting bikinis. 
Now considering what is commonly accepted as the top male erotic fantasy, the thought of close up shots of two incredibly curvaceous female torsos may lead some of you to think this is the sort of video that should be watched after everyone else has gone to bed. Well not so, as only the most vigorous of teenage wrist athletes will be able to reach for that box of Kleenex considering their relatively short screen time. However, what this does mean is that this is one MTV friendly video which is fit for all the family.
Nudity aside, this is really a very professional effort with some subtle, yet important effects. The main opposing scene to the warehouse shot is the band chugging down the road in their fluffy-dice adorned Cadillac. What is great about this scene is the way each band member is subtly framed by a white outline giving the appearance of something straight out of a comic. The car and the band have then been superimposed on a backdrop of a moving street in an overemphasised way that pokes fun at this old Hollywood trick.
Along with a great jogging scene during the quiet bit, all combined these different facets make up what is basically a really enjoyable video which would sit easy amongst any of the major label releases. It's also the sort of video that will comfortably snare any channel hoppers and keep them watching right to the end.
Now for those of you who don't give a stuff about the video and just want to know what the single is like, well all I can say is if you took the best parts of both The Police and Green Day, then combined it with some thought provoking yet incredibly catchy lyrics, you won't be far away.
Written by Habert on
Pete Habert was sub-editor for The Mag and co-ordinated submissions from the swarm of writers that contributed articles from their local music scenes.
Discover More Music