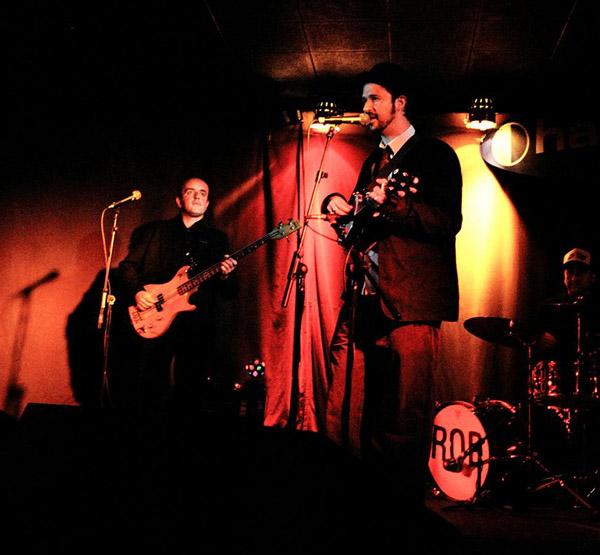 Rock, Onic, and Bob
That'll Do LP
The number of records we've received that contain a Banjolele can be counted on Captain Hook's good hand. The number of records that contain a Banjolele and kick off with the Clash's 'White Riot' can be counted on his bad hand!
Following on from the banjolele-punk of the opener is 'The Sun Goes Down', which actually reproduces the vibe of the original record rather well, albeit with a quirky but distinctive flair. 'The Model' does equally well, although the backing vocals put enough tongue-in-cheek to reproduce the 'mumps-look' better than class 3b.
At first 'Mr Blue Sky' is in danger of being almost as bad as it was originally (which suggests that you can't fix a bad song), that is until the great whistling section lifts things to Monty Python proportions.
It is at this point that Rock, Onic, and Bob attempt to pull off a rather brave and dangerous feat that not even a rock band would dare. Nirvana's 'Territorial Pissings' would be pure musical suicide (especially considering the jealous loyalty of Nirvana fans) except for the fact that the ending serves as mischievous and disarming proof of their insanity (if further proof is needed charging £3.49 entry fee to their gigs should suffice).
Treading safer territory, 'Eat My Goal' gets my vote as 'most likely to appear on television' for its incredibly fizzy-drink friendly sound (so don't be surprised if these guys are propelled to fame on the back of a world-cup themed drinks advert). This is then followed by the montage of styles in 'Prince, Cell Block H'.
The boyband genre gets its turn with 'Keep on Moving', resulting in a sound akin to the Barenaked Ladies playing a version of the Five song.
Final track, 'I Wish', finishes rather tamely compared to some of the other efforts and provides an opportunity to take a step back and assess the after-effects of the re-working process.
Rock, Onic, and Bob don't just inflict their style on some old tunes, they assimilate the original essence of the song resulting in appropriate vocal sounds, accents and musical styles all being reproduced on 'boring old folky instruments'.
I've amazed myself that I've managed to get this far without mentioning George Formby, which has had to be a conscious effort as I couldn't bear the 'it's a banjolele not a ukulele' hate-mails. However, some comparison has to be drawn between this band and good old George as I'm fairly sure that they have something else in common – insanity!
This record, in its wonderfully crazy novelty, is enough to inspire me to dig out the £3.49 to see them live – I might even let them keep the change.
Written by Smith on
Stuart 'Saur' Smith was a prolific writer for The Mag throughout the magazine's lifetime. He combined a day job of temporary office jobs in London with a nightlife of trawling the capital's music venues looking for talent. As well as writing about music, he was a session musician who featured on a number of singles in the 90s. Today, Stuart is a Chief Writer for Phonotonal.
Discover More Music