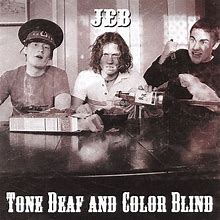 JEB
Tone Deaf and Colorblind LP
Hailing from Anchorage, Alaska, JEB are a grungy three-piece who have collected together a hefty 16 tracks in the form of their debut LP 'Tone Deaf and Colorblind'.
'Baby Love' is an absolute masterpiece, sitting right at the front of the track listing to blow away any preconceptions and replace them with the feeling of absolute awe. There are complex layering of guitars and vocals that add dimensions to what is already a good song.
Not being a one trick pony, JEB continue with the cracking dark rock of 'Saturday', which has a ripping verse and sinister sounding chorus. Some Therapy-style riffing adds plenty of guts and a seamless transition which leads to 'Drugs are What I Love', being a fine grunge affair.
There are plenty of songs that are the equal of this opening triplet on the LP without too much repetition of a theme. 'Binge' and 'Beautiful' are good examples of two great songs with a world between them.
Mixed in with this host of seriously big tracks, JEB demonstrate their humour with the self-censored 'The Many Faces', 'Jebberish', and 'Tone Deaf'. However, the band have been careful to draw the line between the songs so there is a clear divide between the tracks that are serious offerings and the Violent Femmes styling to the comedy numbers.
'Tone Deaf and Colorblind' is a refreshing break from everything; a grunge band with a sense of humour, with serious songs and a sixteen track record that doesn't nosedive halfway through.
If JEB don't manage to break out of their home town with this record then we'll just have to move to Alaska.
Written by Smith on
Stuart 'Saur' Smith was a prolific writer for The Mag throughout the magazine's lifetime. He combined a day job of temporary office jobs in London with a nightlife of trawling the capital's music venues looking for talent. As well as writing about music, he was a session musician who featured on a number of singles in the 90s. Today, Stuart is a Chief Writer for Phonotonal.
Discover More Music