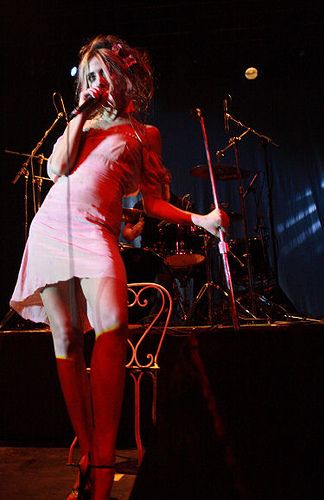 Queen Adreena
Live at the TMF Festival
Stumbling into Queen Adreena's set by chance, my first reaction was a double take. Standing unsteadily atop a rickety chair, clad only in a torn pink dress and sporting mud-stained limbs, lead singer Katie Garside (ex Daisy Chainsaw) is a mesmerising spectacle to behold. Swigging wine from the bottle and cavorting on the stage floor, Garside alternates between drug-fuelled mania and childlike vulnerability. But it is when she sings that you understand why the largest crowd of the day are standing rooted to the spot in spellbound awe.
Complimenting the dark, gritty guitars perfectly, Garside's vocals are at first tender and deceptively honeyed, before tearing into the shrieks and melodic wails of a siren. She has the range and power to rival Bonnie Tyler and the vixen-like ferocity to send Courtney Love running for the hills.
Queen Adreena have the dramatic stage presence to rival any glam rock band. Vying for Garside's limelight is porcelain-cheekboned, cravat-wearing, ultra feminine guitarist, Crispin Gray, whose backing vocals provide some glorious harmonies. And the melodies are carried along apace by Peter Howard's psychotic Animal drumming and Orsen Wajih's nimble-fingered bass work.
The music is punky, volatile, and varied, and most remarkably held together impeccably, despite Garside's screaming confession; 'I blame it on drugs'. In keeping with this sentiment, the subject matter of the songs is painful and uncomfortable – an insight into the Garside's own chequered life.
Perhaps worried we haven't fully grasped the extent of her angst, Garside hurls her chair at Gray, and ends the set with a hauntingly beautiful solo on an empty stage.
Discover More Music