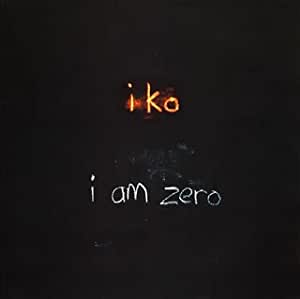 Iko
I am Zero LP
Since the Buffseeds split up some twelve months ago there has been a bleeding gap in the glittering indie scene that's needed filling. The problem was, The Buffseeds weren't your average indie band. They had a distinct sound that sprouted from the unique vocal of Kieren Scragg and blossomed with a sparkling resonance that was created by acoustic guitar, warm strings, and beautiful melodies.
Thank your lucky stars then that two former Buffseeds have got together to form Iko, an equally enthralling indie band with similarly glistening compositions. 'Lovestruck' is the first of these songs and flows between a swaying verse and emotionally deep chorus.
With a bit more bite, 'Cinema' kicks off with a full band impact intro that contains a subtle hooky riff. A light verse is complimented by a big chorus that is restrained only by it's own humble delivery. This is my top pick from this record.
The title track, 'I Am Zero' is a gentle acoustic guitar and cello affair with a melody as delicate as a moth's leg, which leads us to 'Rosetta', which has been hand-picked as the first single to be released from the album. While it doesn't have the instant drive of 'Cinema' or the epic intentions of 'Lovestruck' it is certainly the best introduction for the band, generating strong signals about what you'll find on the LP.
Also heading for a release this year, 'Hologram' is predominantly an acoustic track with ambient backing vocals and lonely viola providing occasional accompaniment.
The following brace of 'All Time Low' and 'Numbers' are quiet and shimmering and give no indication of what's to follow! The sudden arrival of 'Nova' is a unexpected as a fox with a 'fight the ban' banner, appearing full of intensity with crunchy guitars and a fair bit of pace.
The melancholy pairing of 'Prom Song' and 'Damage Report' round things off on such a sombre note it's a quick trip back to the first track to start the album all over again.
With plenty of new things going on, Iko have stamped their identity on this record, but unlike many re-inventions, second-albums and side-projects, Iko do have songs that can rival the Buffseeds' 'Sparkle Me' and 'Barricade'.
It's definitely time to throw away your dodgy chart purchases to make some space for your new Iko collection.
Written by Fenton on
Steve Fenton writes in our music, words, and culture categories. He was Editor in Chief for The Mag and covered live music for DV8 Magazine and Spill Magazine. He was often found in venues throughout the UK alongside ace-photographer, Mark Holloway. Steve is also a
technical writer and programmer
and writes
gothic fiction
. Steve studied Psychology at OSC, and Anarchy in the UK: A History of Punk from 1976-1978 at the University of Reading.
Discover More Music