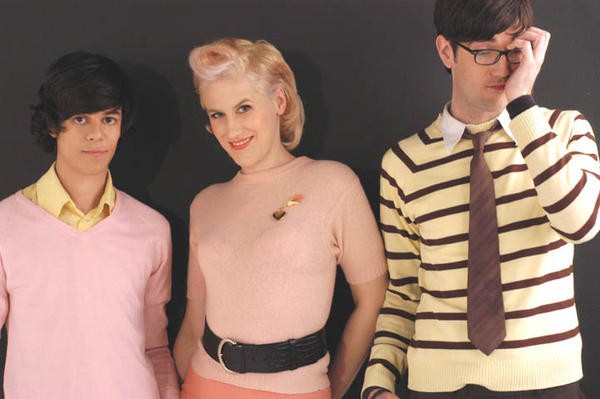 Ladyfuzz
Live (UK Surf / Rival Joustas)
After some initial problems getting into the venue (my name isn't on the door despite assurances that it would be), I'm eventually let in and head straight for the bar… if not for a drink, certainly for warmth and something to lean on. It doesn't seem very busy for what I thought was a relatively well known band, but then again the current scene moves so fast it's hard to tell what's generally accepted as good and what isn't.
After the initial bevy I go and have a look at the first band. Throughout UK Surf's set some woman keeps backing into me despite having an endless amount of space in front of her. Every time she bumps into me (I'm backed against a wall), she turns round and gives me the glare of a maniac. If she didn't have her bloke with her I might have thought she was coming onto me.
Despite this distraction I do manage to enjoy the band. The keyboardist has the nerdy Chemical Brothers look nailed and the rest of the band look equally as 'uncool' (in current 'scene' terms). This actually works for them as they are clearly just playing music they like, rather than what they think other people will like. It's rocky and well structured but the singer's voice is about an octave too low to successfully compliment the epic rock chorus they frequently produce. Entertaining but nothing too memorable.
The gap between bands gives me an opportunity to move away from the psycho lady, but the break is short-lived. I get nice and close for Rival Jousters and need somewhere to put my empty glass, the only option being a shelf on the wall that is directly behind… you guessed it… psycho lady. Thankfully she isn't looking, so I sneak up and put my glass on the shelf buckaroo style. She doesn't buck or even see me. Phew.
Standing close up during Rival Joustas is a risky affair. The frantic, jerky riffage is complemented by the singer's set-long epileptic fit ( disclaimer: not a real epileptic fit), during which he often spills out into the crowd. I watch peoples faces turn from delight to genuine unease as the front man convulses on the floor for slightly longer than seems necessary.
Each member is completely self-involved in the music, all four of them thrashing around in their own territory with never-ending energy that could either be attributed to their young age or artistic passion. The singer ends the set with his shirt over his head and a tambourine down his pants. Need I say more?
In truth I feel a need to write a whole lot more on Rival Joustas but I won't, because Ladyfuzz are the headliners tonight and it would be unfair. The Jousters finish the set asking us to 'stick around for Ladyfuzz'; a command that about a third of the audience ignore and disappear either homeward or to chat to members of their new favourite band. In a fantastic turn of fate, psycho lady is one of the disobedient members of the crowd who vanishes, although I'm never quite sure whether she's really gone or just wants me to think she's gone ( paranoia is not a trait I'm proud of.)
I back against a wall for a better vantage point in preparation for Ladyfuzz, and it turns out I'm on the better side of the stage; the lady side. To say they look like the Yeah Yeah Yeahs would be a lazy comparison, however this doesn't make it any less true. It's not so much the female singer but more the guitarist's elaborate pedal setup and the drummer's menacing stare.
The three piece start with confidence and an energy that holds my attention for about two songs, after which it starts to get a bit repetitive.
A multitude of instruments ( recorder, kazoo, cowbell trio) gives an illusion of ingenuity which I later perceive to be a cover to hide the lack of song writing variance. Even the singer's seductive vocal presence begins to wear thin as the lyrics are reduced to whines, 'ahs' and 'ohs'; a crafty way of encouraging the gaggle of young female fans at the front to join in with their fashion idol. If they just looked over to the left they would witness a more talented musician to aspire to, as despite all my criticism the guitarist remains an inspirational live performer, using a range of effect and loop pedals to fill out the otherwise shallow three-piece sound.
As I leave I pass a Rival Jousta being backed into a corner by a group of young fans, followed seconds later by the Ladyfuzz guitarist standing on his own looking slightly bewildered. It is clear where the electricity of tonight's gig originated, and it wasn't from the headliners.
Guest article from Matt S.
Written by Guest Writers on
Between 2003 and 2009, [the-mag] had regular contributors from music correspondents covering their local scene. You'll find them all in the guest writers section. The specific writer is mentioned at the bottom of each article.
Discover More Music