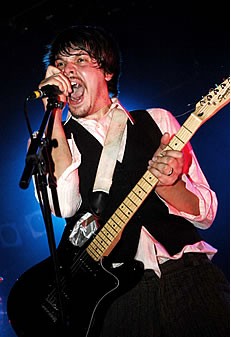 Dead!Dead!Dead!
Live (Dumb Founded / Accrington Stanley / Rotating Leslie)
Tonight's gig is one that I have been looking forward to for quite some time. Dead Dead Dead are one of those bands that I hear a lot about but never actually get around to checking out.
Judging by the amount of support bands (there are three) as well as spectators gulping down the drink at The Joiners tonight, the good word has spread further afield than my humble home, and it's also worth noting that this is not the usual gig night crowd; the majority of this lot would look more at home in their local cheering on Pompey or The Saints in a drunken stupor. Not that I'm one to judge of course.
Around half of the crowd arrange themselves in front of the stage to see Dumb Founded struggle with a canvas banner sporting the band name and a menacing pair of black and white squinty eyes – a humorous event that could have been avoided if it had been hung more than half an hour before they are due to take the stage. When they finally do strike a chord I am relieved to discover that their musical prowess if far more impressive than their banner-hanging skills.
As with so many bands on the current scene Dumb Founded sound like Maximo Park, Franz Ferdinand, and Bloc Party squashed into fashionable togs minus the instrument cohesion. Although these guys don't differ in the influence stakes, they are certainly more polished than the usual copycat affair. To their credit the singer is an imposing front man, chatting away between songs with the sort of confidence that seems impervious to stage fright.
Ironically it is his slightly shouty and tuneless vocals that let the overall sound down, transforming the otherwise catchy tune 'Secrets and Lies' into a wingey mess of mismatched melodies. Flawed in places but one of the better Southampton-based bands I've seen in a while.
If there's anything that throws a pessimistic reviewer off balance it's a drastic change of genre, and this is surely the most drastic that could possibly occur. No tight jeans or Converse All-stars here, just unadulterated Dad-Rock in the shape of the age-defying Accrington Stanley.
Imagine your English teacher crooning in a medieval manner and jumping around like Michael Stipe after whipping off his jumper in a wild bid to 'feel free man'. Got it? Now imagine that the music is actually very catchy and faultlessly performed by four guys who have been playing longer than most teenagers have been alive.
I might be selling it badly but trust me, it's so safe and inoffensive you can't help but enjoy it and neither can the crowd, most of whom are now jostling for standing space in front of the stage.
Perhaps it's the lack of 'scene' that unites tonight's audience in some good old fashioned Saturday night fun, or perhaps it's the well crafted tunes in the style of REM and the Rembrants that lets us all forgive the attempted acrobatics of the energetic lead singer (who actually is an English teacher).
Whatever, it is spills over into Rotating Leslie's set, carrying an enthusiasm that drives a drunken gang or middle-aged women to spontaneously seduce a mate of mine mere feet from his girlfriend. With so many wild and crazy females around it's hard to comply with the government's anti-drink driving policy, but I suppress my urges and stick to the coke.
The first thing that strikes me about Rotating Leslie is the singer's fantastic voice. In the current wave of 80s-inspired groups genuine vocal talents are rare, so to find one accompanied by such incredible song writing is a rare treat. Balls-out riffage is mixed with moments of atmospheric unease that pulls me in and holds me there for the entire set, occasionally revisiting reality woken by the rapturous applause from the eager crowd.
They have their own soundman who executes the various effects on the singer's voice, a tiny effect that proves the icing on the cake for this genuinely enthralling half hour of music. Highlight 'Fire Fire' is supplied on a 3-track CD that the band sells after their set, a bargain that unsurprisingly sells out rather quickly. If there's any justice they'll be huge this time next year.
Now for what I came for. Dead Dead Dead Initially strike me as a contemporary jazz band due to both their setup and the sound of the opening track. This soon gives way to a more raw bluesy sound, mainly down to the singer's Black Keys-esque guitar distortion effect which is awesome to behold but often overpowers the backing grooves and seems a touch out of place. The progressive style is akin to the Mars Volta but less well fused together, with new section after section being performed with little relevance. This gives the illusion of spontaneous jamming which is occasionally enthralling to witness, enhanced by the lead guitarist's energetic display that covers all available areas of the stage.
By the end of DDD's set I am won over. They are not an easy band to 'get', but once they get their claws into your skull I guarantee you'll want to go out, buy yourself an electric guitar and whack the amp up to eleven. The front man splices the tunes with Partridge quotes and conversations about 'fucking fat people walking', subjects that seem to tune in with tonight's sell-out crowd whom sing along with several seemingly disjointed sections of music.
Tonight is like a mini-festival, all singing all dancing and completely messed-up genre wise. I wouldn't advise anyone against seeing any of tonight bands, in fact quite the opposite. Everybody had a grand time tonight, even a knackered old grump such as myself.
Written by Guest Writers on
Between 2003 and 2009, [the-mag] had regular contributors from music correspondents covering their local scene. You'll find them all in the guest writers section. The specific writer is mentioned at the bottom of each article.
Discover More Music