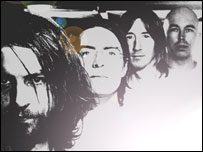 Indeed, with a name like Last People on Earth and a song titled 'Spacesuit' there was bound to be something of a David Bowie characteristic to this demo! However, while the music is the piano, drums and bass of the 1970's, the vocal itself brings to mind Soundgarden's Chris Cornell and there is more than a touch of The Doors evident in the song.
If you've heard anything from Bowie's Ziggy Stardust era, then you only need imagine the addition of a Hammond organ and a smattering of Paul McCartney influence on the piano ( that just means it's quite bouncy and just a little twee!) before you've nailed this song in your head.
It's an entirely different take on the whole retro concept – opting to go down a very different thread to the host of riffy 'c'mon' rock bands and rather sensibly avoiding the likes of The Darkness along the way.
I think I'd have to hear a few more tracks to decide if I really want a revival though!