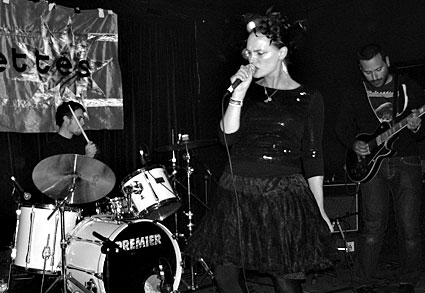 The deBretts
Limited Edition EP
Aw shucks, this is a late Christmas present right? You know my birthday's not till June. And you know I loooove this band. There's a whole gang, dear me, maybe even a scene, of new wavers with fierce (often shouty) frontwomen at the moment – Be Your Own Pet, Noisettes, Long Blondes – as though the Yeah Yeah Yeahs had quietly laid a load of eggs when they first came around, which are just hatching now.
The deBretts could easily be the best of the lot. Live, they're an unruly delight; I didn't compare Vonnie deBrett to Patti Smith lightly when I last reviewed them. On this EP, you don't get the extended tear-ups and audience confrontation of the gigs, but you do get an even better sense of their craft with a song.
Shorn of visual/interactive spectacle, what hits is just how well these songs stand up, what a fine blend of delicacy and aggression this band can fashion. 'Is It Me or Is It You?' It's sweet, it's bouncy, it could almost be Lush for a while, though Lush, bless 'em, never took out your jugular like this song does. Gracefully shifting from coy melody to all out attack, we have a contender for single of the year and perhaps the finest example of what the deBretts do best.
There are three more songs here and each of them adds weight to the notion that a deBretts album will be something to cherish. Images of beauty, images of savagery. 'I need you like a hole in the head', she sings and after several listens I still can't fathom whether that's a good or a bad thing.
As if all this wasn't enough, they promise that their live shows will become 'more theatrical' from now on. Radiation suits to be handed out at the door, surely. Miss this band at your peril – the peril of having a more boring life.
Written by McLaughlin on
Stuart McLaughlin was a regular write for [the-mag] and was frequently seen in live music venues in search of great new music.
Discover More Music