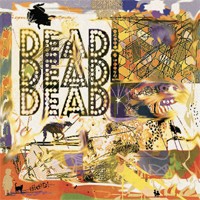 Dead!Dead!Dead!
George Lassoes the Moon
Dead!Dead!Dead! describe themselves as art-rock. What this normally means is pretentious nonsense pumped out by pimply drama-school kids with about as much musical appeal as a small child playing a violin with the claw of a dead pheasant. However, as anyone with functioning ears will tell you, Dead!Dead!Dead! are very much the furthest thing from this sordid picture.
In fact, I have to admit that this is probably the hottest thing to land on my doormat since the time that brown package meant for my dirty neighbour across the hallway was slipped through my letterbox. As the guitar intro of 'George Lassoes the Moon' stabs it's way into my cochlear fluids I'm reminded of bands such as Strangelove, Morrissey, and Franz Ferdinand – but that's not really any decent indication of the sound.
Suffice to say, the mastery of appealing rock lays herein, teasing the lobes with enough hook to get us playful and sufficient experimentation to remind us that this is a wild animal that could bite at any second.
'The Mightiest Melodrama of Them All' is the more detached b-side. Having featured on their second EP we've talked about this one before, but it's good enough to deserve another mention. The percussion is the genius that underpins what first appears to be madness (but which later turns out to be… well, it's still madness.)
The self-questioning lyricism does nothing to dispel the unhinged feel created by the flickering instrumentation. If the 'dogs were coming' in the first track, the psychiatrist is on his way now. Having said this, it turns out fine for us as we get to listen to this without risk of incarceration. For Dead!Dead!Dead!, though, the padded van awaits.
Only 1,000 of these singles has been produced, so I'm working from an unprinted self-destructing version that forces itself through a shredder screaming 'I've only got myself to blame' as soon as it's been played a hundred times. I only know this because it's just happened.
Am I too late to buy the real thing?
Written by Smith on
Stuart 'Saur' Smith was a prolific writer for The Mag throughout the magazine's lifetime. He combined a day job of temporary office jobs in London with a nightlife of trawling the capital's music venues looking for talent. As well as writing about music, he was a session musician who featured on a number of singles in the 90s. Today, Stuart is a Chief Writer for Phonotonal.
Discover More Music