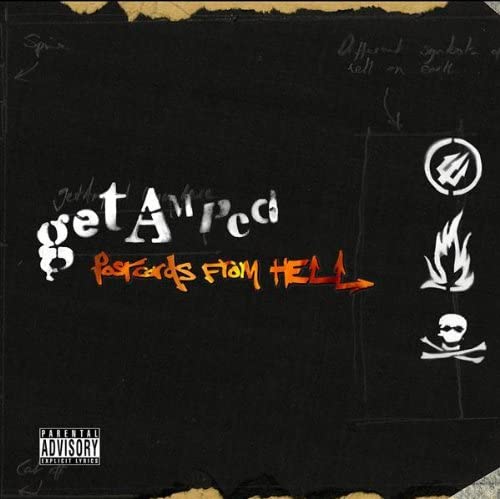 Get Amped
Postcards From Hell LP
It's always a pleasure when a little package from Get Amped lands on our doormat. From the arrival of their first album back in the Autumn of 2004 right through to their delightfully subversive Xmas song, I can honestly say we haven't had a bad word to say about them.
And justifiably so as these boys check every box on the rock n roll tick list; good looks, great live shows, excellent songs and a healthy disregard for all things pompous and small minded. Chuck in the fact that they're also extremely nice and approachable chaps, have played to audiences of over 100,000 in China and have been up and down the pubs and clubs of this country several times and we're genuinely amazed we're still writing about them. In fact, when we rubbed The Mag's crystal ball nearly two years ago, a glittering future full of MTV domination and world touring success appeared before our eyes (however, as with most psychic predictions they're never date specific – just ask Nostradamus).
So you can imagine the bundle when the new album, 'Postcards From Hell' shot through the letterbox – writers wielding staplers like miniature battle-axes cornered the editor and in the ensuing punch up ( well playground scrap to be precise) I nipped in an nicked it from under their flailing arms – the quick and the dead my old man used to say.
All very well and good but what about the bloody review? Well I'm pleased to report 'Postcards from Hell', despite its title, maybe that feelgood album of the summer, just not in the sense you're probably expecting.
Collected amongst the 16 (17 if you count the 'secret' appearance of the brilliant 'Token Xmas Song' at the end) songs on this album are tunes melding a range of genres all seamlessly glued together by Get Amped's most important asset, their ability to write catchy, sing-a-long tunes with bucket loads of substance.
Starting with a Celtic jig intro which morphs into some serious metal riffing, you get the feeling that this is going to be a more measured and creative effort than 'Phoney Society', and when the title track arrives, you know this impression is bang on.
With Get Amped's trademark of immensely hooky guitar riffs, the title track, 'Postcards from Hell', grabs you into the verse, letting up for a melodic bridge before unleashing its nu-metal chorus. Despite all that there's even time for an Eastern string break proving that dabbling in genres is going to be the order of the day. That said, whilst not immediately THE song of the album, 'Postcards from Hell' grows on you with every listen and by the third time around, it all makes so much sense.
Not letting up for a second, 'Reject and Sterilise' launches itself as a straight ahead rock track and the sort of tune that makes driving in the summer a bearable experience. The pace doesn't let up until the end and even then you'll still find it playing in your head, justifying itself as the worthy second single from the album.
Fortunately 'Tyrannosaurus' is upon you before you've found that rewind button, making you wonder whether they can keep this sort quality and tempo up for the rest of the disc. It's another pop/rock/punky summer tune but with serious lyrics sitting more then comfortably on top, giving this melodically stomping track a serious underbelly.
…and I could go on and on, but I won't (because it'll start sounding like some sixth form essay). Suffice to say the choice picks from this damn fine album (and there are many) are as follows:
Live favourites 'Short Fuse', 'DJ God of the Zombies' and 'Black Clouds' all make their long awaited studio debuts and lose none of that energy in the process.
'All that I Wanted', which creeps up on you with its Andy Summer inspired riff and the Sting-like vocal delivery putting you in mind of 'Walking on the Moon', which then itself appears as one of the most interesting covers I've heard in a while. Indeed, when you are a band with so much to offer, you should really leave these for the odd live appearance. However, this is the exception. The golden rule of a great cover is to keep what made the original great and then re-do it in your own way and this is exactly what they've managed here. From its mellow, detailed and familiar verse the song launches then itself into a full blown head down rocker before dropping back to return to that that chilled vibe to end matters. Great stuff.
But before I finish I really do have to mention 'Find Someone'. With almost a funked up KT Tunstall feel to its rhythm and acoustic vibe, this is not the sort of tune you wouldn't expect from Get Amped. However, with the arrival of the sort of chorus which has 'summers here' splashed all over it in big sandy letters, and despite being pop from start to finish, this song could well be the undercover hit no-one was expecting. Trust me, this tune is more catchy then Freddie Flintoff with a tube of super glue.
And given that the word count now says something like 2, 000 million billion, if you've read this far it means you're intrigued (or really have nothing better to do) and you should therefore really do yourself a favour and get hold of this little nugget – by the third play you'll be jumping up and down like a loony and beating all your cheapskate, CD pirating friends off with sturdy longboard.
Written by Habert on
Pete Habert was sub-editor for The Mag and co-ordinated submissions from the swarm of writers that contributed articles from their local music scenes.
Discover More Music