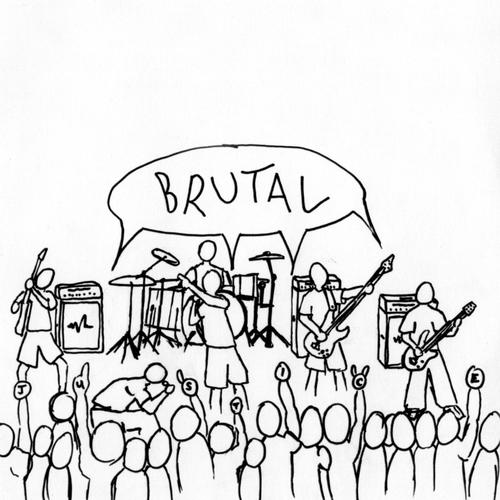 Brutal Justice / Knötaröt
Split LP
'Brutal Justice started as a joke, and then they got good…' reads the mini-biography and in terms of ability this may be the case. The main problem with a parody-hardcore band that turns serious is that they inevitably become a self-parody (or maybe a parody of a parody).
In any case, while the guitars rip it up and the vocal shreds, the songs just aren't doing anything for me. Now I'm not expecting to get some kind of life-changing, out-of-body experience from any record, but I actually like hardcore and this isn't in any danger of making a return visit to my eardrums. The sharp awareness of light and dark, the inescapable riff and the honest emotion is all missing.
Strangely sharing bed-space with this UK hardcore band are Austrian electro-metal duo Knötaröt, who pump out squeaky electronic drums and sing (rather well indeed) in the harsh consonants of the German language.
The quality of the vocal is especially prevalent in a song that, until I master the language, we'll call 'Track 2'. Unfortunately, there are moments that bring to mind the South-Eastern equivalent of The Proclaimers, but on the whole there is a creativity here that's worthy at least of a mention.
The most surprising song is the reggae-metal stomper called something like 'Larger Cages, Longer Chains', it's not like anything you've ever heard, unless you've seen these chaps already.
I have no idea who the target audience are for this band, but if you fancy the idea of seeing two blokes dressed in strange costumes playing heavy metal with the aid of a laptop and a video show – then you've found it at last.
Written by Smith on
Stuart 'Saur' Smith was a prolific writer for The Mag throughout the magazine's lifetime. He combined a day job of temporary office jobs in London with a nightlife of trawling the capital's music venues looking for talent. As well as writing about music, he was a session musician who featured on a number of singles in the 90s. Today, Stuart is a Chief Writer for Phonotonal.
Discover More Music