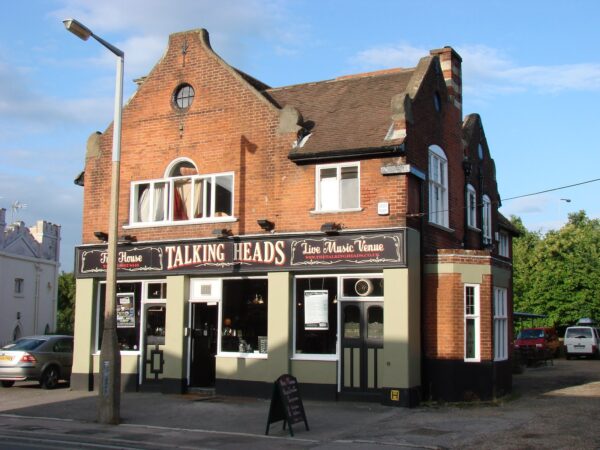 The Beating Van Dams
Live (I Falter / Hellcyon / Last Exit / Black Bart)
Defying the well-known 'Silent August' effect, the Talking Heads was squeezed from wall to wall for the final of their battle of the bands. Having sieved through twenty bands over four weeks, these bands represented the best five bands that the competition had to offer. I have no idea how they selected the fifth band, what with a presumed one winner per heat, but five there were.
I Falter were the first to ply their wares and a tasty selection they had too. There was something of the eighties in the eighteen-beat drums and delayed guitar, but with an injection of indie and some driving bass lines. The sound was a very controlled affair, in a sparkly The Upper Room style, with the guitars building careful layers and storming through chunky solos. This was complimented by a vocal that owned both clarity and style.
Hellcyon were a different proposition altogether. Despite being talented musicians, their set bordered on the realms of a Mel Brooks spoof of 70's rock, complete with amusing costumes and a complete set of parody-cliches. With the odd Led Zep and Queen riff throw in, Hellcyon were essentially a poor-man's AC/DC. Now when I say 'poor-man', we're talking Eddie Murphy at the beginning of Trading Places. (Or Dan Ackroyd about half-way through!)
This was musically very, very tight, but it was also intolerably cheesy.
Having seen Last Exit some six months ago, I though I knew what to expect from them; grunge and rock songs, translated to an acoustic guitar, bass, and djembe. Despite the acoustic twist, it's all played with the same vigour as the originals. However, with the addition of a second guitar, keyboards, and some backing vocals, they seem to have lost the freedom that their simple line-up afforded. Now, with the additional distractions from the 66% increase in instruments, the simplicity is gone. It's a bit like adding mustard to macaroni-cheese; it hides the intended flavours behind an over-complicated strong taste.
The eclectic selection of songs has also scarpered, having been replaced by some fairly obvious acoustic choices. The Lemonheads are out and Snow Patrol are in. On top of this, the keyboard player was left hanging about with nothing to do in some songs, causing that well-known 'what to do when standing around on stage' dilemma. Check out the Zutons' saxophone player for the solution to this problem. Maybe it just wasn't their night, as technical problems threatened to supply an early exit – at one point even forcing a 'restart' of a song.
Black Bart looked like they had arrived fresh from a wedding in their best suits and paisley ties. Re-inventing, or maybe re-creating, the sounds of the fifties, theirs was a set full of twelve-bar blues, Chuck Berry solos, and the odd BB King moment. There were oodles of vocal harmonies and also some difficult to pull off talky-verses that were executed both bravely and to perfection.
The set started off with a bit of a plod, but things warmed up a bit in the second half with more variety in the tempo department. The proper upside-down left-hander played a stunning set on guitar, although the between-song interesting fact concerning the eating habits of reptiles was a little lost on the late-night crowd.
If the intention is to fill up a list of bands that pay homage to past-decades, Black Bart could slip into the fifties column where The Feeling take the seventies and Captain take the eighties. Presumably we're leaving the sixties to McFly, which is a bit like leaving a Doberman in charge of a baby. The boomer generation needn't worry though as Black Bart seem to be taking good care of the 'How to be a good housewife' years.
The Beating Van Dams rounded things off with a technically proficient set. The vigorous drumming was accompanied by proficient bass and clever guitar and herein lays the problem. Sometimes musicians are so good, they spend more time doing difficult things than they spend doing enjoyable things. The net effect of this is that you feel you're at a music-tech demonstration rather than watching a band. This was further stressed by the workshop style progression of 'here's a rock riff'… 'here's a reggae riff'… 'now this is jazz' and 'this is how you play punk'. Despite all these styles, not a single song stood out.
Resigned to the fact that I wasn't going to be given a meaty hook or decent melody, I spent most of the set watching the drummer beat the crap out of the drum kit with expert precision and great timing and actually started to enjoy myself. Knowing when to keep things simple is an important skill, more so if you happen to be incredibly proficient. A bit more focus on the songs would give The Beating Van Dams a decent platform for their musical talents.
However, they can't have been all bad as they managed to secure a runners-up slot along with my favourite band of the night, I Falter. Black Bart scooped the grand prize, which included a sizeable trophy, 500 notes, and a load of hand-shakes.
Written by Fenton on
Steve Fenton writes in our music, words, and culture categories. He was Editor in Chief for The Mag and covered live music for DV8 Magazine and Spill Magazine. He was often found in venues throughout the UK alongside ace-photographer, Mark Holloway. Steve is also a
technical writer and programmer
and writes
gothic fiction
. Steve studied Psychology at OSC, and Anarchy in the UK: A History of Punk from 1976-1978 at the University of Reading.
Discover More Music