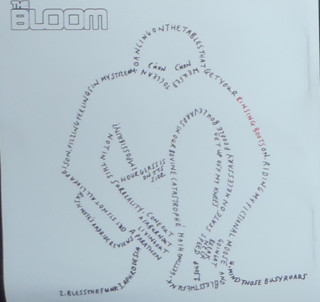 The Bloom
Rinsing Boots
Gigging all over London for the past 2 years, The Bloom have finally got around to releasing their debut EP and, quite frankly, I'm very happy they did.
Happy, lively and funky (with excellent rapping/ragga-tinged vocals that can sing a bit), 'Soup' kicks things off by managing to glue your ear to the stereo while smearing lubricant on your feet, defying them not to move. It's simple stuff using simple riffs in a simple way, and, quite simply, it works an absolute treat. Think Booker T meeting the James Taylor Quartet on the way to a G Love and Special Sauce gig and you'll be close to the sort of maniacal, yet chilled energy on offer here.
A tad slower in tempo, 'Bless The Funk' is another summery tune which again defies you not to organise a small beach party in its honour. Its classy stuff from start to finish and you can almost feel the mantra 'rare groove' dying to be stuck on it.
Perhaps the weakest of the tracks on offer arrives in the form of 'Aphrodesia'. Initially dropping the tempo, this is a more plodding, acoustic tune that's driven by Nick Majer's excellent vocals – in itself surprising as the press release says the music was written first! However, while not as strong as the other tracks, it still manages to be a half decent tune in its own right.
However, 'Mind Those Busy Roads' brings everything back to some serious funking business with a stomping tune that also possesses an ever so slightly dark side ( not a million miles away from south coast heroes Hijera). It's a rocking, swinging, funked up odyssey weighing in at just under 6 minutes, though you'd never notice such is quality of the hooks, rhythms and instrumentals on offer.
For a debut this is an excellent 4 track effort with solid production throughout, mixing all the instruments at just the right levels so that none dominate but all shine.
All I can say is I only hope its not another 2 years before The Bloom get around to releasing their next effort. Great stuff.
Written by Habert on
Pete Habert was sub-editor for The Mag and co-ordinated submissions from the swarm of writers that contributed articles from their local music scenes.
Discover More Music