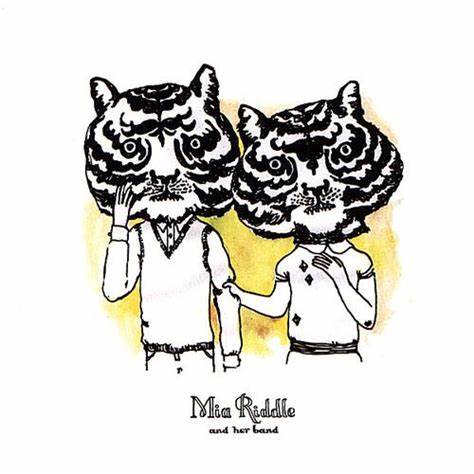 Mia Riddle
Tigers LP
Mia Riddle has now supplied us with three records and it's clear that she's developing into a real-life stunningly fantastic talent. I don't say this lightly either. The key to the Mia's phenomenal impact is her quirky and loveable sound.
If I was to describe every track to you, we could well be here for a week as every single one of them sets me tingling and inspires me to new heights of metaphorical comparisons.
On a basic level, there are bits of the slower, emotive side of Pavement and chinks of the off-the-wall international-indie of Drugstore and loads of little hints of all those really talented solo artists that all managed to conjure a sound out of nothing, like Tori Amos or PJ Harvey.
Songs aside, she's also managed to surround herself with musicians that understand the delicacy of her style, so now we have a full band line-up to compliment the tunes without having a full-band onslaught of instrumentation. It's true to the solo-acoustic roots and yet the addition of some drumming, electric guitar and swaying bass adds additional ammunition to an already powerful vocal armoury.
If KT Tunstall teamed up with Polly Harvey and took over control of the Violent Femmes with the intention of teaching them to play more like The Seekers, you'd probably end up with a rather nasty incident involving someone being hung on a hotel door with a double-bass string. However, on the off chance that it all came together, you might get something that sounds a bit like Mia Riddle's Tigers.
If you're even a little bit intrigued by this artist, head on over to her site and listen to the samples.
Written by Fenton on
Steve Fenton writes in our music, words, and culture categories. He was Editor in Chief for The Mag and covered live music for DV8 Magazine and Spill Magazine. He was often found in venues throughout the UK alongside ace-photographer, Mark Holloway. Steve is also a
technical writer and programmer
and writes
gothic fiction
. Steve studied Psychology at OSC, and Anarchy in the UK: A History of Punk from 1976-1978 at the University of Reading.
Discover More Music