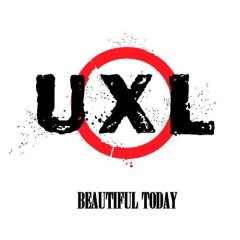 UXL
Demo
This self-titled demo from Birmingham band UXL starts of with a fantastic crashing guitar and drum intro before mellowing out and letting a powerful blues/rock voice ask you 'Who's going to wash away those tears?'
As an intro to a set of songs from a new band, they grab you by the short and curlys and pull you straight in, and thankfully, once the initial 'wow' factor wears off, they have the musical ability to back up it up.
This four-piece follows the long line of brothers forming bands made up of John, P J and Paul Tierney on vocals, lead guitar and drums respectively and completed by Dan Clark on bass, keyboard and arrangement duties.
Their press release shows that they followed the traditional road; starting off playing covers (Zeppelin/Hendrix/U2/Chilli Peppers, the Beatles et al), progressing to their own songs, gigging to one man and his dog before supporting Wishbone Ash in concert (okay the last one isn't typical but a lot of bands dream it was.)
The opening song 'Can I Dream Again?', as mentioned, starts off with an chaotic crash before mellowing out for the first verse, but the underlying drive of the song is never far away. There are a couple of nice touches to the song, among them are the subtle drum rolls from Paul behind the chorus. Also they make very good use of harmonies on the backing vocals to add a real depth to the song. The song ends with a fierce guitar solo from P J who shows that he is well on the way to mastering his effects rack.
'Promised Land' starts off feeling like Maiden's Seventh Son album with an almost ethereal sound, before heading off into rockier territory, taking an almost prog-rock theme of being taken to the 'promised land' of Atlantis. Now I am not the biggest fan of swords and sorcery rock and thankfully this doesn't head to far down that road as it is saved by John's blues/rock rasp that sounds like Paul Rogers after a particularly heavy night out gargling a mixture of Jackie D, gravel and a big reefer of finest Dutch import.
'New Dawn Waiting' is a bit of an epic coming in at nearly 8 minutes. Dealing with a more social/political theme of opening your eyes to see what is going on and asking why 'in a mad world the name of God is more powerful than a gun?', this is probably the weakest of the 3 song lyrically. It's not a bad song just a little simplistic in it's feeling, but with the average age of the band at 18 ½ they have plenty of time to mature and gain experience. Musically there are again some nice touches, chief amongst these is the militaristic snare of Paul's drums in the opening segment adding to the forlorn atmosphere at the start of the song.
UXL are a band that are going places. John's voice is huge and shouldn't be possible in a 17 year old, P J's guitar while not flashy is very effective and doesn't over power any of the songs (which is harder than it sounds), Paul's drumming is always solid and occasionally inspired and Dan's bass-lines holds the songs together and, along with his keyboard skills, shows a great deal of musicality.
This demo is a very good example of how to do it. Three very different songs that still retain the bands sound despite showing their influences.
If you have the opportunity of seeing these lads live catch them while you can, they will be good in stadiums, but they will fantastic in a club.
Guest article from Neil R.
Written by Guest Writers on
Between 2003 and 2009, [the-mag] had regular contributors from music correspondents covering their local scene. You'll find them all in the guest writers section. The specific writer is mentioned at the bottom of each article.
Discover More Music