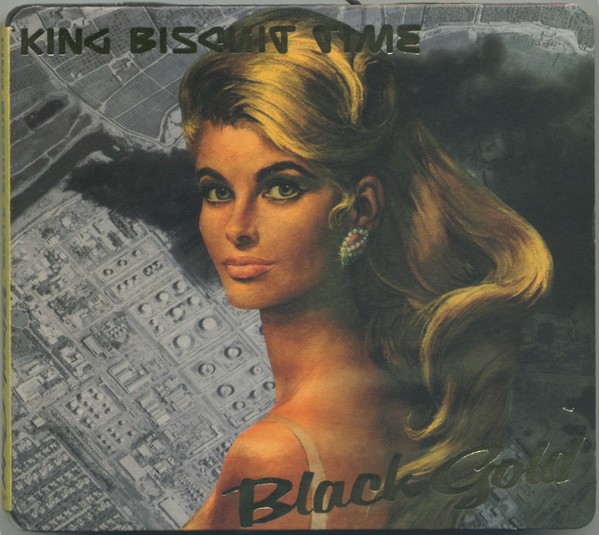 King Biscuit Time
Black Gold LP
It's fair to say that Steve Mason has seen a lot. Having spent the best part of ten years with the Beta Band creating the spliff induced folk-hop template that was much copied by everyone from Oasis to Beck – Mason eventually saw the band split amid financial turmoil, internal politics and record label wrangling.
It is telling then that Mason has stepped back, not just personally but musically, from the frontlines of the mainstream media with an album that takes the folk elements of the Beta Band, the hip hop outings of Beck, Simple Kids gurgling synths and a punk attitude (fuelled no doubt by his new allegiance with Maverick record boss Alan Mghee) to create a dancehall indebted rock album that challenges and still enriches the values of everyday life.
Mason sets his stall out with the demonstrative 'CIAM15', a politically fuelled hip hop track that sees him casting his eye over a couple of government intelligence agencies (go on have another look). Never one to shy away from throwing a few curveballs into the mix, as the track blips its way to the climax a dance hall reggae skit (from an uncredited here) singer adds a massive left turn for the track that perfectly displays the new found sense of humour that eluded him towards the extended death roll of the Beta Band.
The quirky arrangements and playfulness continue through 'Izzum', 'Lefteye' and, personal favourite, closer 'Metal Biscuit'. Never afraid to speak his mind, the lyrics deal often in soapbox politics which further enhance Mason's reputation as a marginalist, a maverick spokesman for the disaffected. Its clear that the shift away from major label politics and finance crazed a&r men – after the next hit – has released Mason from a stranglehold, as his compositions and lyrics skip skittishly across a wide spectrum, at each turn genuine and curious while still seething with an underlying anger.
A fantastic next move from Mason and one that, while not being a huge cash cow for those involved, will ensure the cementing of Steve Mason's place into history as one of the finest alternative musical talents to come from these Isles.
Guest article from Ben M.
Written by Guest Writers on
Between 2003 and 2009, [the-mag] had regular contributors from music correspondents covering their local scene. You'll find them all in the guest writers section. The specific writer is mentioned at the bottom of each article.
Discover More Music