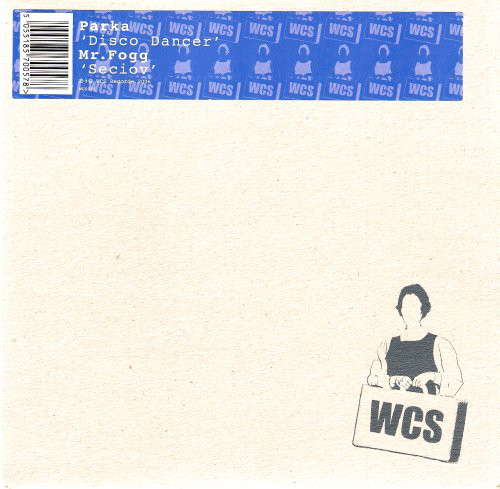 Parka / Mr Fogg
Disco Dancer / Seciov
Well, whatever I'm about to say, good or bad, the chances are that you or someone you know will own these songs very soon. This is because those clever chaps at Worst Case Scenario have struck a deal with Creative (who make MP3 players) to have their artists pre-loaded on their new 'Zen Vision:M' players. Clever stuff.
The first two bands to get loaded are Parka and Mr Fogg and we've been handed a copy of their joint double a-side in order to have an advance listen.
Parka are very much part of the current Franzy / Arcticy jangly messed up guitars scene, albeit with a bit of The Piranhas thrown in courtesy of some staccato brass. 'Disco Dancer' is true to it's name with a pumping disco 16-beat, the guitars supply the jangly crunch and the vocal does a talky-shouty thing that remains melodic enough despite it's slightly unhinged end-of-line surges.
All in all, this makes for quite a sensible choice for your 'average audience' – if you're young enough to be able to work an MP3 thinger majigger, then you're young enough to like Parka.
A slightly less obvious choice and perhaps more likely to find it's way into the recycling bin, Mr Fogg bring to mind a combination of The Flying Pickets and 'I'm Not In Love' by 10cc with their voice sample backing track. There's a bit of an electronic rhythm added in and a growling electronic bass line, but the lead vocal is the dominating force in this song.
In fact, I'd like to hear the vocal in a different song as the music on this track can get irritating rather quickly with is stuttering repetitive loop. Things pick up at the tail end of the song with a steadier rhythm, but round and round goes that backing track with nothing to break the monotony.
You can't help but feel that this is a talented singer pretty much going to waste on this song, but there's so much potential that it would be a crime to write off the band without first hearing more.
With the singles market proving harder-than-expected for independent artists to break (Get Amped must have been the nearest miss as far as unsigned bands and the Top 40 are concerned), perhaps the pre-loaded music market will offer them more exposure at a much smaller cost?
Written by Fenton on
Steve Fenton writes in our music, words, and culture categories. He was Editor in Chief for The Mag and covered live music for DV8 Magazine and Spill Magazine. He was often found in venues throughout the UK alongside ace-photographer, Mark Holloway. Steve is also a
technical writer and programmer
and writes
gothic fiction
. Steve studied Psychology at OSC, and Anarchy in the UK: A History of Punk from 1976-1978 at the University of Reading.
Discover More Music