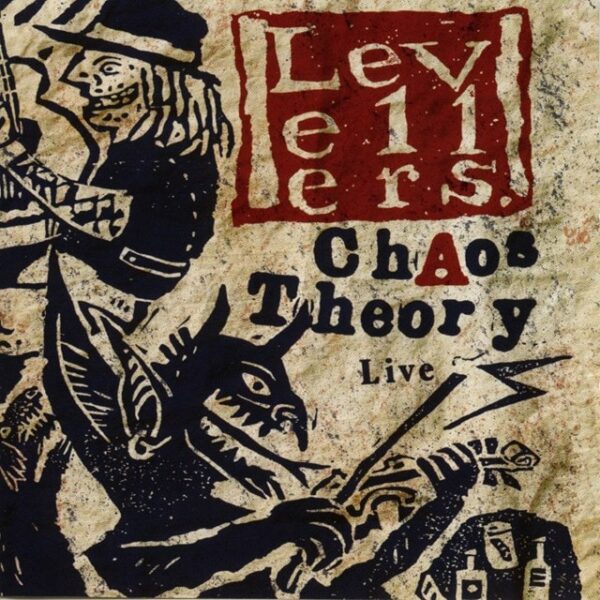 The Levellers
Chaos Theory (Live DVD)
If you haven't heard of The Levellers then you must have been hiding in a cave since 1988 and you certainly weren't on the planet in the mid-nineties. Despite their lashings of fame though, they are still releasing everything through their own label – On The Fiddle Recordings – and this makes them giants in the independent world.
They did have a stint on someone else's label, China Records. In fact, it's the managing director of China Records that said: "They'll never last." Well, I guess twenty years isn't that long!
Chaos Theory was recorded at Reading's Hexagon in March of this year, and it proves that, despite their longevity, they still play their songs with the same amount of passion that they always did.
This is wholly evident in 'Another Man's Cause', which summons the same emotive response now as it did when it was first released. In fact, there is a whole string of evidence in this respect with screwed-up faces, sweat, and plenty of shift in the whole set.
Most of the big ones are on here (with the most notable exception being 'Hope Street') but it's also a chance for some of the less obvious tracks to shine.
On the one hand, you've got over twenty live tracks as well as a whole other DVD full of bonus features such as an acoustic set, tour diary, and Billy Brag double-teamer from Beautiful Days 2005 (that's the festival that these chaps set up!)
On the other hand, what you've got is a ton of really great songs from a band that still sound bloody fantastic.
Turn off your computer, go home early without asking for permission and try to rediscover your spark. The Levellers haven't lost theirs.
Watch The Levellers – Riverflow
Written by Fenton on
Steve Fenton writes in our music, words, and culture categories. He was Editor in Chief for The Mag and covered live music for DV8 Magazine and Spill Magazine. He was often found in venues throughout the UK alongside ace-photographer, Mark Holloway. Steve is also a
technical writer and programmer
and writes
gothic fiction
. Steve studied Psychology at OSC, and Anarchy in the UK: A History of Punk from 1976-1978 at the University of Reading.
Discover More Music