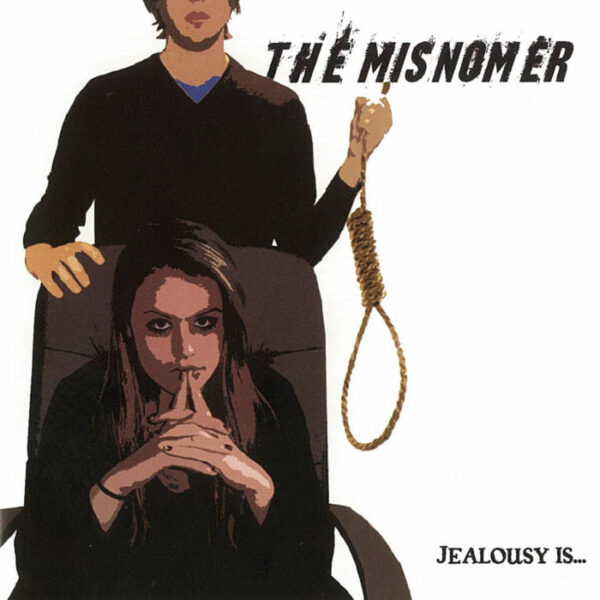 The Misnomer
Jealousy is a Legacy Mini-LP
The Misnomer have done very little wrong on this mini-LP. Getting down to the important business of rocking without pretentious introduction or delay. Hold on though, clever chords and a melody that's so far away from obvious it has to re-mortgage to send a postcard? What's going on here?
In fact, every song manages to take you off-topic with really quirky breaks and with riffs that transform a potential cliché into a huge surprise. It's like getting attacked by a rabid dog, but instead of ripping off your face, it gives you a Chinese-burn and a wedgie; so unexpected you're left with a smile. Erm. Well, moving on…
Another impressive aspect is the joined up sound of this record. The songs are wedged really close together; creating a flowing effect that drags you from start to finish without respite, leaving your hair all messed up. This would be a terrible mistake if the songs didn't contain the level of individuality on offer here.
The first four songs are a good example of the fingerprint-nature of the song writing. They all head down the odd-rocking style predominant on the mini-LP, but choosing the best is incredibly difficult. It's probable 'Jealousy' or 'Sally is so Lost'. If not, then it's '… And Now My Feet Are On Fire' or 'Brand New Room'. See what I mean – near impossible.
Even the acoustic interlude of 'Spinning Wheel of Death' contains all the trademark spins and quirks, leading into the chunky intro of 'Stiffer Upper Body', which is a Rocket from the Crypt style bouncer with a lead-guitar line The Betes Noires could have penned. A heavy crashing ending brings visions of a potentially stage-killing end-of-gig explosion, but on this occasion the actual ending is supplied by the sparkling harmonies of 'Vital Organ', with dark twists channelling the practically pop-punk melody.
It's a bit like a more hooky version of Soundgarden mixed with some subtle punk and a touch of funky jazzed up intelligence. Similarly, the vocal is quite grunge mixed with a splatter of A Perfect Circle and the odd early-Greenday slur around the edges.
Written by Smith on
Stuart 'Saur' Smith was a prolific writer for The Mag throughout the magazine's lifetime. He combined a day job of temporary office jobs in London with a nightlife of trawling the capital's music venues looking for talent. As well as writing about music, he was a session musician who featured on a number of singles in the 90s. Today, Stuart is a Chief Writer for Phonotonal.
Discover More Music