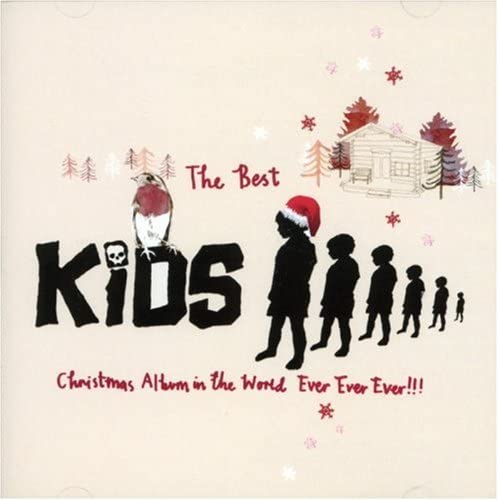 Various Artists
The Best Kids Christmas Album in the World Ever Ever Ever LP
I'll be honest. I hate Christmas. I hate the lights. I hate the way you can't go to the shops from July onwards without hearing about it. And the music. Cliff Richard, Slade, Wham, the list goes on – 'Now That's What I Call Christmas Volume One' reads like a potted history of war crimes against people's ears.
To try and redress the balance (whilst also raising cash for charity) uber-cool new label KIDS (who have released records by the likes of iLiKETRAINS and The Whip) have asked their bands, friends, and label staff to create their very own Christmas record. A quirky mix of covers, original tunes, and oddly enough Pet Shop Boys covers (err…) this album does indeed step away from the bell ridden rubbish of yore and help push festive fretwork somewhere towards being cool
The Kids All Stars' opening rip through a ragged take on 'So Here It Is Merry Xmas' offers a distinctly funk-punk slant on proceedings before the likes of The Mighty Six Ninety and The Wombats all offer up fun laden original tracks to offer some sparkle to the tracklisting.
Personal favourites for me are Findlay Brown's desolate take on Wham's 'Last Christmas', rearranged for a heartbroken acoustic guitar, and the fizzingly wonderful West End Girls who offer up a cheesetastic cover of Pet Shop Boys 'Always on Mind' (itself a cover and indeed a Christmas No. 1 – hence its slightly tenuous presence here).
Tongue in cheek throughout, a better option come the big day than Wizard and all for a good cause. 2006 has been good to Kids record and seen it establish itself as one of the indie labels to watch – here's for a happy new year.
Guest article from Ben M.
Written by Guest Writers on
Between 2003 and 2009, [the-mag] had regular contributors from music correspondents covering their local scene. You'll find them all in the guest writers section. The specific writer is mentioned at the bottom of each article.
Discover More Music