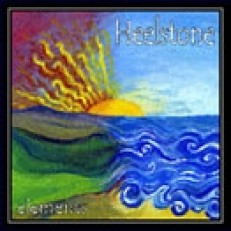 Heelstone
Elements LP
Heelstone are a family acoustic trio that have been on the folk circuit for some five years now. They have performed with the likes of The Huckleberries and the Oysterband at such events as The Larmer Tree and The Wessex Folk Festival.
Despite their long history 'Elements' is their first recording, made up of old traditional songs which they have researched, re-arranged, and recorded in their own style.
'The Helston Furry Dance' kicks things off with a foot-stomping jig all about this annual pagan dance through Helston's streets during its Spring festival (Flora Day). A proper beer-swilling song with Gareth's Shane McGowan-esque vocals beautifully complimented by Wen's delicate backing harmonies.
'Spanish Ladies', also known as 'Farewell and Adieu to You', keeps the tempo at table-thumping pace with its 15th-century shanty (working song) traditionally sung by homeward bound naval crews. As with most of the songs on this album, its origins are often shrouded in mystery and have survived through time by word of mouth but that said, the sentiment of raising a glass and bellowing out a tune in celebration is something that has never gone away. And a bloody good job too!
'Over The Hills' relaxes things with this army favourite of the 1700s. Now I'm not sure if Top of the Pops had started in earnest then, but I can tell you this would have been number one by a country mile as it's one of those songs you'll know even now. You may not think you do, but you do – trust me. Again it's beautifully sung and the music effortlessly whisks you away to a summer's day in England's rolling countryside.
Of course no album of traditional old school (and I mean old school) folky favourites would be complete without an appearance of the 'Drunken Sailor'. 'Elements' doesn't disappoint kicking out this two-minute classic halfway through proceedings. Of course, the list of people covering this tune is virtually endless, but Heelstone can certainly pride themselves on being in the top half with this effort.
Other songs of note are 'Mairi's Wedding', with its Cure-like bass melody vigorously played by Merv, 'Rebel Soldier' encompassing emotional fiddling and guitar/bass builds with its traditional melancholic lyrics, and a song called 'Bingo', which despite my theory of being an old ladies call to arms, is actually about a farmer's dog.
In all, what Heelstone have managed to do is bring that feeling of being four pints down in an old English pub, with the fire roaring and the punters singing, straight to your front room. And while this sort of music may not be to everyone's taste, if you are a big fan of The Pogues and like a few ales and a sing-a-long, then I'd certainly recommend this without any hesitation.
Written by Habert on
Pete Habert was sub-editor for The Mag and co-ordinated submissions from the swarm of writers that contributed articles from their local music scenes.
Discover More Music