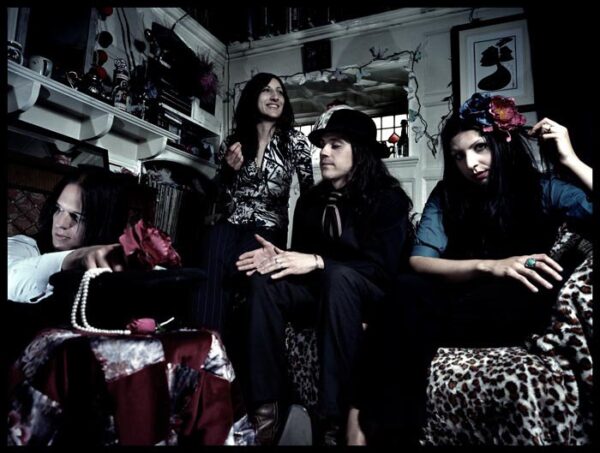 The Rum Circus
Live Launch Party
If you often emerge from your bed late in the afternoon with your make-up still on, light a fag whilst mixing a bloody Mary, and then step into something sequined for another debauched all-nighter, then you would have been right at home at the Old Blue Last for the launch of The Rum Circus' debut single.
With fairy lights adorning the walls, a series of old black and white films projected onto a huge screen, Ella Fitzgerald singing 'The Lady is a Tramp', and a dazzling array of colourful, burlesque characters strutting about in the smoky haze, I felt like a spare corset at the Moulin Rouge. If only I had remembered my red lippy!
A burly drag queen complete with huge fake eyelashes, Essex-style white boots, and a handbag introduced a succession of circus acts such as a fire-eating sailor girl, a seductive, feline dancer (nice nipple tassels), and a puppet freak show. The highlight for me though was the special appearance of a childhood hero of mine – none other than DJ Boy George!
The place was crammed by ten o'clock when the four-piece finally took to the stage. The first couple of songs indicated that at the band's creative core is the lead singer/guitarist, Chesca. With her strong, broody voice, hair adorned with flowers, and clutching a plastic mug of ship's rum, she was almost snogging the microphone with dramatic fervour.
The reason for this mad party was to celebrate the release of 'Four Points on the Compass', the band's debut single and third song of the night. This dark, moody number proved once and for all that 'la, la, la, la' is an under-rated lyric that, when used carefully, can convey so much more than most people give it credit for.
A cello player arrived onstage to exquisitely complement the songs 'Cherry' and 'Gabrielle'. The first, an optimistic number with rapidly-delivered lyrics, was about being in love when you're dead! The second was a melodic, sweetly-cynical song that saw the main singer swap her guitar for a keyboard and cast a rousing, hypnotic spell whilst lead and bass provided stirring backing vocals.
My favourite track, 'America ' was an ode to the big man himself (God, not George W. Bush) and juxtaposed bouncy, bashy chords with derisively depressing lyrics such as the harsh-but-fair 'He won't even notice you when you call his name to praise him'. 'Pull Out My Eyes' was one of the more up-tempo, good-time numbers, with better backing vocals than previous songs. I suspect the drummer was providing harmonies, but I couldn't quite see through all the feathers obscuring my view!
The set ended with something that would have offended my young ears as I played Karma Chameleon on cassette back in the eighties 'Thanks for coming everyone, and big thanks to Boy George, you f*cking slag!'
Although the lyrics were occasionally undecipherable and the backing vocals may have needed a bit more work, The Rum Circus entertained with highly-watchable, very passionate, kick-you-up-the-arse stuff. A theatrical, sensory overload of a night.
Watch The Rum Circus – Four Points on the Compass.
The Rum Circus Articles
Discover More Music