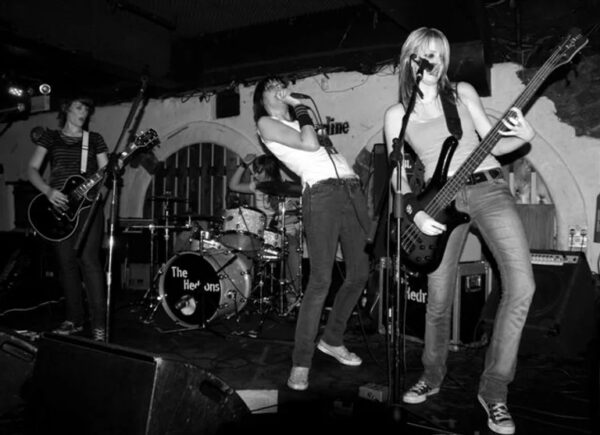 The Hedrons
Live (A Different Day / Get Amped)
A Different Day were essentially a British rock band, but with just a hint of subtle American shapes in their sound. This Atlantic-spanning addition mostly manifested itself in the song constructions, where a sudden grunge chord progression would transform the whole sound during the chorus.
The singer started each song poised indifferently with a hand in his pocket, but gradually warmed up more and more so that by the end of the song, he would be putting in a grand performance. It should be said that these chaps could probably polish things up a bit, but they have a great sound and enough ability to pull off some difficult ideas live.
GetAmped – Live
GetAmped hauled themselves out of the studio and back onto the stage to supply an energetic set that showcased their new-found groove-rock sound. Drawing on their two-album supply of hook-laden, sun-bleached, and downright awesome material, the set simply flew by.
A new drummer, in the form of Pitchifter's Jason Bowld, added a hard-hitting edge to the songs with the stunning new track 'Safe' taking on a heavy groove-rock sound while giving old favourites, like 'Reject and Sterilise' and 'In the Dark', a fresh flavour too.
Once the album is finished, you can bet that GetAmped will be travelling up and down the country, so make sure you catch them at your local hot spot. We mentioned what we saw in our crystal ball for these fellas and they aren't about to prove us wrong.
The Hedrons – Live
The Hedrons took to the stage three dates into their three-month-long cross-Atlantic tour and demonstrated what all the fuss has been about.
For the uninitiated, all the comparisons to The Buzzcocks, Patti Smith, and early Blondie are well deserved (as it's the unsung Britpop-fringe element to their sound) and the live delivery is the confident energetic onslaught of punk rawness and rock cockiness that you would expect from a band that practically lives on the road.
Their two hugely successful singles, 'Be My Friend' and 'Heatseeker' were the cornerstones of their set, but the rest of the material was as far from time-filling as it gets.
The UK element of their tour, which sees them travel up and down the country a good two or three times, will peak at their Glasgow homecoming show at King Tuts on 10th February – but you'll also get a chance to see them in Toronto and Texas in March!
Watch The Hedrons – Heatseeker.
The Hedrons Articles
Written by Fenton on
Steve Fenton writes in our music, words, and culture categories. He was Editor in Chief for The Mag and covered live music for DV8 Magazine and Spill Magazine. He was often found in venues throughout the UK alongside ace-photographer, Mark Holloway. Steve is also a
technical writer and programmer
and writes
gothic fiction
. Steve studied Psychology at OSC, and Anarchy in the UK: A History of Punk from 1976-1978 at the University of Reading.
Discover More Music