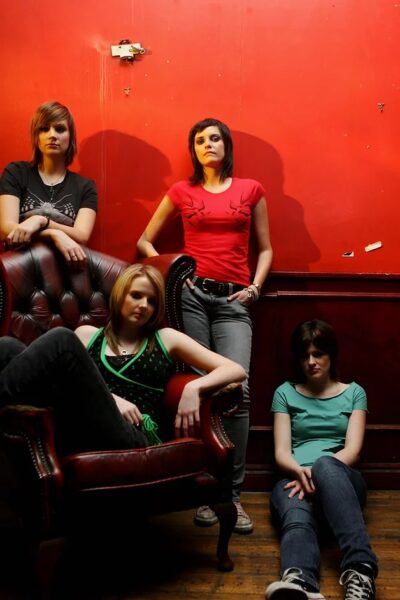 The Hedrons
Interview
So far this year, The Hedrons have reached the indie-chart Top Five for a second time and embarked on a tour of the UK that spans the next two months to promote their forthcoming album, 'One More Won't Kill Us', which is released tomorrow (February 5th). We managed to trap them in the basement of The Joiners, Southampton, just long enough to get answers to some poignant questions…
You've just reached number five in the indie charts for the second time in a row with 'Heatseeker'. How did you manage to sell all those records?
Tippi: We toured non-stop, which helped us get into the chart the old-fashioned way. We were delighted that people bought the record – it got to the same position as the last one, but we sold more copies and we can see we're making progress.
Are there any plans for another single?
Rosie: We're not sure what we're going to do to follow up at the moment, we're going to see what happens with the album and the tour first.

Tippi: This tour is working out really well already, people that saw us before are coming back to see us again and we're starting to see our fanbase grow across the country.

Rosie: We toured with Towers of London for a while, but usually we play with different bands each night and it's really interesting to hear them all.

Tippi: There is sometimes a strange mix of styles, but it means the crowd get variety and when the support bands are that good it makes us pull out all the stops and play the best we can.
You've had to change your lineup just before this tour, has that proved to be a difficulty?
Rosie: It's been a real shame for Chi – she was in a car crash and broke a bone in her neck. She carried on playing afterwards but it got really painful and she had to get it checked out. She needs an operation and it's likely to take eight months for her to get better.

Tippi: Gill had to pick things up very quickly, but she's been great and it's like we've known her for years.
Do you find it difficult to be taken seriously when you get labelled as an all-girl band?
Tippi: We don't really push the all-girl aspect. It's unfortunate that we're all girls in some ways but it isn't as bad as all that. We're just a band like any other.
You have an album on the way, will that mean more touring?
Rosie: The album is out on 5th February in the UK and Japan. We're playing in the UK until the middle of February then Toronto and Texas in March. We're also planning a tour of Japan.

Tippi: We're just going out there to put on some shows and we're hoping to return there in August.
Save me a job… How would you sum yourselves up?
Tippi: We're chaotic, loud and reckless. We enjoy ourselves 'cause that's what it's all about!
Written by Fenton on
Steve Fenton writes in our music, words, and culture categories. He was Editor in Chief for The Mag and covered live music for DV8 Magazine and Spill Magazine. He was often found in venues throughout the UK alongside ace-photographer, Mark Holloway. Steve is also a
technical writer and programmer
and writes
gothic fiction
. Steve studied Psychology at OSC, and Anarchy in the UK: A History of Punk from 1976-1978 at the University of Reading.
Discover More Music