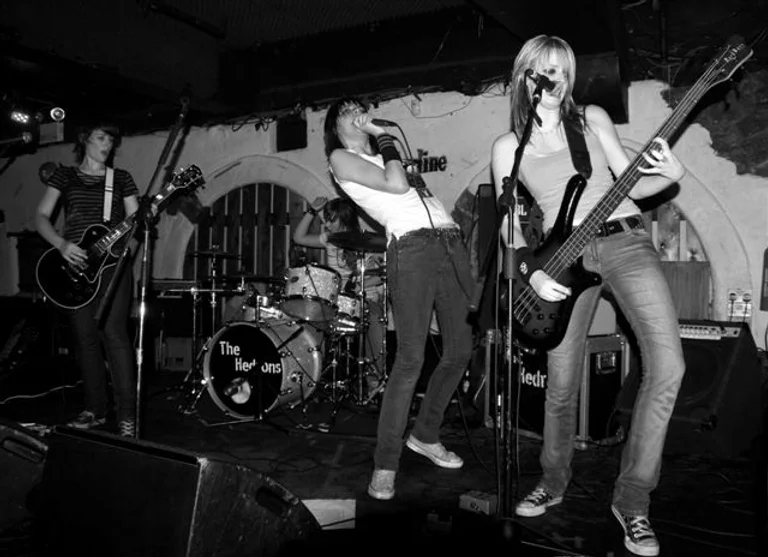 At the end of the day it's just music and, if its played well and touches people, then that's all that matters. The Hedrons are the latest Glasgow four-piece to be picking up the column inches as much as the gig riders and in the long run, it may do the band more harm than good. Playing at a new regular Thursday gig night in Paisley, the band got the opportunity to let their music do the talking.
Coming across with all the commercial punk fire of Johnny Thunders and The Heartbreakers, but mixed with some polished edges, the pace was frenetic from the start and never let up throughout the show.
For the first few tracks the instruments were to the fore, due to a combination of some classic guitar leads and runs from Rosie on lead guitar, but also because it took a while for Tippi's vocals to come alive. For the first few songs they were spot on melodically and were loud enough, but lacked the raw edge to dovetail with the crashing background the rest of the band were supplying. As the set carried on, the lead vocals became looser and the band's overall sound came to the fore a lot more. For all the uncertainty at the start, Tippi's vocals were impressive throughout and indicated why the girl has been on the edges of the Scottish music scene for a few years.
However, when you're a band wearing drainpipe denims and you holler 'One, Two, Three, Fawhr' before launching into the song, you're pretty much wearing your influences on your sleeves (or sleeveless Blondie shirt as worn by the singer) and anyone who has any leanings to the original American take on punk may find some tunes worth hearing in the Hedrons. Tonight 'Heatseeker' came across as the most fully rounded song; but that said, the evening's closer provided the most fun with its extended outro and general rocking end. To paraphrase Henry Ford "The Hedrons come in any colour – as long as it's Joan Jett black."
As a show for a new act, it was a good calling card – possibly a bit one paced, but when a band is finding their feet, this is no bad thing. It would probably be for the best that all the proclamations by Alan McGee are ignored, the column inches in the local tabloids are passed over and The Hedrons take the time to further their sound and make better songs to do their talking for them. Given half the chance, this all female rock act maybe in with a good shout if the hype doesn't kill them off first.
Guest article from Andy R.