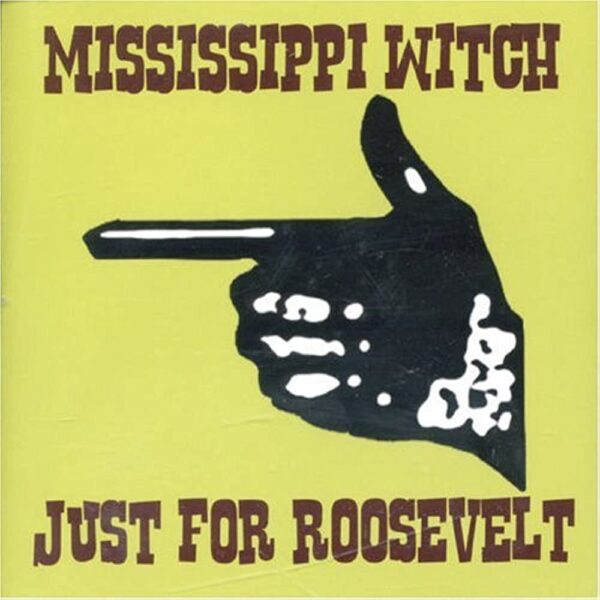 Mississippi Witch
Just for Roosevelt
I guess there is a kind of emotional truth to the clumsy, half-baked intensity with which this band interprets the blues tradition. At the same time, it seems that too often they choose to mesh irony into their rendition of the genre, which turns out to be the main appeal of this single, as well as its chief weakness.
The title track is a hard-hitting number propelled by a guitar-driven groove with angsty exaggerated vocals carrying a whiff of erratic experimentation. The call goes out to Robert Johnson and Muddy Waters as well as Zappa's innovative work, but in the end the song hits mud half-way between tradition and earnest innovation. There is emotion as well as suggestions of irony in this track, but both are somewhat mannered and superficial, failing to develop this number into a truly exciting piece of music.
The second song, 'Alligator Mechanics', instantly triggered the Doors track 'Wild Child' in my not-so-perfect memory and made me dig out my old vinyls which I haven't listened to for over 15 years. Blues is the genre that relies on standards and borrowings for its very survival, but my curiosity still had to be satisfied. It turned out that just a few notes from Robbie Krieger's solo (one of the most beautiful and poignant solos that the Doors guitarist had ever played) were repeated in the riff of 'Alligator Mechanics', and I was shocked by how this miniscule borrowing was enough to jolt my memory and to place a distinct stamp of a classic song all over this track.
I still prefer to think that it is irony, rather than ineptitude, that gives this single its quirky and slightly unauthentic quality. And maybe because the band fails to be one hundred percent sincere, which is an indelible requirement for all styles of blues, they have failed to make a believer out of me.
That is not to say that I am a blues purist. On the contrary, if you wish to check how blues has successfully progressed into in the 21st century, I can recommend a fantastic modernist blues act Pig In A Can, whose incredibly inventive music is a testimony to how this genre can be as stirring, dark and genuine as ever, but also chic, elegant and totally modern.
Written by Guest Writers on
Between 2003 and 2009, [the-mag] had regular contributors from music correspondents covering their local scene. You'll find them all in the guest writers section. The specific writer is mentioned at the bottom of each article.
Discover More Music