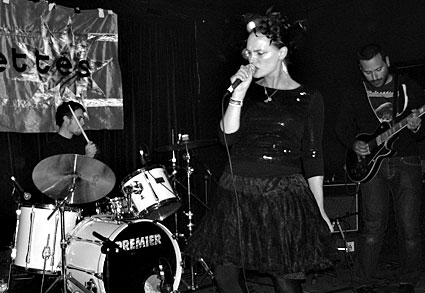 The deBretts
Live (Bib)
They're BACK!! The deBretts – only 18 months old, to put some perspective on it – haven't really been away that long, but we do seem to measure the spans of our young bands in goldfish years. It's not as if they've been in a farmhouse for half a decade (why is it always a farmhouse?) while Vonnie demands a genuine 60s mic marked with Janis' very spittle.
Still, there has been a pause since their initial onslaught. Recent single 'You Can't Fix It' felt like formula, a suitably filthy riff hiding not very much, but it's nearly first album time and the people are hungry for the real bittersweet stuff.
In the downstairs bar, Bib's Chris K-OS waxes philosophical on the unreal timescale of the rock-pop-indie world, among other related subjects. He's got a good attitude; in short, there will be no suicides round Bib's way if the Business in its finite wisdom decides it doesn't need them. Why that should be the case is beyond me. Chris and Duncan Diamond, a man so haunted by crummy office jobs that he looks to have come straight from work, banter sweetly enough to reduce us to contented giggles. The drummer plays it deadpan. Heaven knows what he thinks of it all. Bib are a laugh, but like the best clowns they offer more.
Taking the beats and synths thing from Kraftwerk, early Depeche Mode and others, like those heroes, Bib are able to wring a lot of emotion out of simple sounds. Likewise their observational lyrics are pared, not showy, but photographically stark. Whether funny or sombre, they put you in the picture with them. When Chris lays a luminous Cure-like riff over 'Dimesy's Dead', you can jump around, smile, or maybe even gulp a little. The song is about a guy killing himself, after all. Like those Cure songs, you can dance your butt off, but there's something quite deep going on underneath the glittering sound. For three comical blokes, they punch well above their weight.
At their most fiery, the deBretts seem capable of tearing the world a new axis. You want to talk heavyweights? This band have dominated every bill I've ever seen them on, and explosions like 'Hole in the Head' are rightly getting noticed now, but this isn't quite the hurricane of old. (Once again, let's remember that 'old' refers to 2006, and it should be a long time before their tale is completed.) Vonnie the holy terror seems a more mellow presence, toning down her confrontational side, and the arrival of a new drummer contributes to a sense of transition. It's the new songs that worry me; one of them is, literally is, the Chillis' 'Can't Stop', albeit without the sense of a loveable stoner trying to pick his rhyming dictionary out of the bath, while another draws on 70s heavy rock tropes and is the only deBretts song ever to merit the description 'rambling'.
Let's not panic yet. The lady deBrett still has the voice of greatness. Aidan still plays guitar like two men, and 'Is it Me' is the leanest beast out there. You or I would pawn our tongues to have written that song, though we'd have to get someone else to sing it, preferably Vonnie, or Karen O at a pinch. Most promising of all, the keenest sign of a new direction is found in a song that has already become their standard set-closer. 'We Go Together' is all booming Moe Tucker funeral drums and murderous intent, with possibly Vonnie's most potent vocal ever. It ends up as a thrilling thrash and is something I could happily listen to all week. So, these are transitional times, and tonight doesn't provide the out-of-body experience hoped for – and perhaps taken for granted – but I still reckon class is permanent.
Written by McLaughlin on
Stuart McLaughlin was a regular write for [the-mag] and was frequently seen in live music venues in search of great new music.
Discover More Music