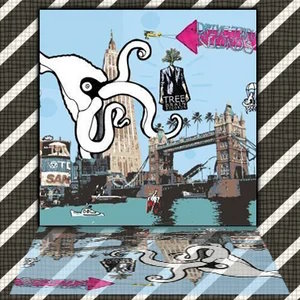 Drive Thru Records / Tree Brain Records
Split Sampler LP
Drive Thru Records have got a reputation that includes up-tempo pop punk and EMO bands, wild tours and dedicated fans. The beauty of the Drive Thru label is that they often stick compilation material together that showcases loads of different bands that all have similar appeal.
In fact, I believe I was reviewing Allister at the Wedgewood Rooms in Portsmouth when I first saw The Early November – a band I just can't get enough of!
Well, in the true spirit of building a portfolio of bands that can all get along in the style department (albeit with enough diversity to mean they're worth listening to) Drive Thru have teamed up with UK label Tree Brain Records.
The resulting LP is going to appeal to existing Drive Thru fans for definite – half the tracks are supplied by the USA contingent and the songs from the UK chaps match up to the songwriting quality and performance ethic.
There are plenty of comparisons to be made on this record – between the Tree Brain and Drive Thru bands themselves; Dave Melillo has a hint of Allister and a touch of Homegrown in 'Vatical Roulette', for example. But there are also references to the current crop of chart-invading bands, like the Fall Out Boy in Jaimison's 'Keyboard or Me-Bored'.
It's an appealing record throughout and I'd recommend the following list of bands for you to check out, if you haven't already… Kill The Arcade, The Early November, Skys Day Off, Jaimison, Dave Melillo and Tonight is Goodbye.
Written by Smith on
Stuart 'Saur' Smith was a prolific writer for The Mag throughout the magazine's lifetime. He combined a day job of temporary office jobs in London with a nightlife of trawling the capital's music venues looking for talent. As well as writing about music, he was a session musician who featured on a number of singles in the 90s. Today, Stuart is a Chief Writer for Phonotonal.
Discover More Music