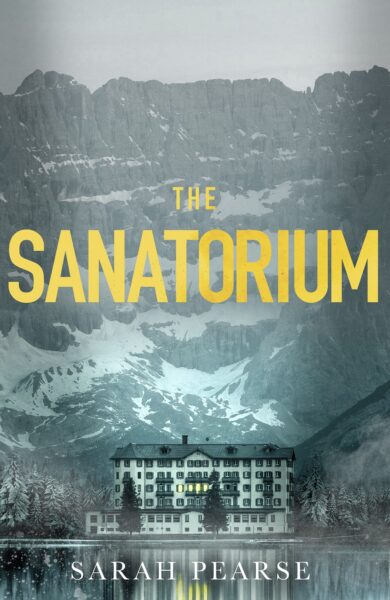 Sarah Pearse
The Sanatorium
The Sanatorium is a neat blend of detective fiction, psychological discomfort, and blizzard-swept house of horror. After a cinematic introduction that introduces the building and the horror element, we meet our protagonist, Elin. She's a detective on a break following a rough case back home in the UK and her backstory forms the focal point as events unfold high in the Swiss mountains. Asides from the work-related anxiety, there's some family history that needs to be dragged to the surface.
As detectives in fiction go, Elin is struggling to make good choices, agonising after the fact about the consequences of her actions. This is the real horror figure looming over her as a character, but before long this mental ghost will come hunting for those around her – just as a masked figure comes after them in the physical world.
The horror comes in part from the building, a Sanatorium that has been renovated into a rather sterile and modernist hotel. Cloaked in glass, swathed in marble, and full of reflections. It also comes in part from the antique mask worn by the killer, which was reportedly used in the treatment of tuberculosis. The remoteness of the hotel, the brutality of the masked killer, and the intense weather all add flavour to these foundations.
On the crime side of the novel, there's a trail of clues to follow, plenty of people who don't want to tell the truth and a neat mix of methods (from modern elements like CCTV through to plain old scrabbling around on the floor for clues). Elin is unremarkable in this respect, not a Holmes or Wimsey, but rather a hard-working real-life detective who is piecing together the fragments, paying attention to how people react, and using some good old gut instinct.
It's not all about Elin. There are some distinctive players in the game, each with their own agenda. Family, friends, and those staying at – and running – the hotel all stick their oar in as they find themselves stranded by an avalanche with little prospect of the local Police arriving in time to prevent more murders.
It's refreshing to read a book where literally anyone could be killed. Not a single character feels safe in this story and with good reason! When you don't know the motive of the killer, you can't know who they are coming for next.
I found this book uniquely refreshing as it genre-hopped between crime and horror. The writing is modern and casual, but with a literary twist that I particularly enjoyed as Pearse describes the hotel, the mountains, and the weather. This is a thriller with a distinctive visual filter. Highly recommended.
Publisher's Synopsis
An imposing, isolated hotel, high up in the Swiss Alps, is the last place Elin Warner wants to be. But she's taken time off from her job as a detective, so when she receives an invitation out of the blue to celebrate her estranged brother's recent engagement, she has no choice but to accept.
Arriving in the midst of a threatening storm, Elin immediately feels on edge. Though it's beautiful, something about the hotel, recently converted from an abandoned sanatorium, makes her nervous – as does her brother, Isaac.
And when they wake the following morning to discover his fiancée Laure has vanished without a trace, Elin's unease grows. With the storm cutting off access to and from the hotel, the longer Laure stays missing, the more the remaining guests start to panic.
But no-one has realized yet that another woman has gone missing. And she's the only one who could have warned them just how much danger they're all in! (Synopsis)
Written by Fenton on
Steve Fenton writes in our music, words, and culture categories. He was Editor in Chief for The Mag and covered live music for DV8 Magazine and Spill Magazine. He was often found in venues throughout the UK alongside ace-photographer, Mark Holloway. Steve is also a
technical writer and programmer
and writes
gothic fiction
. Steve studied Psychology at OSC, and Anarchy in the UK: A History of Punk from 1976-1978 at the University of Reading.
Discover More Words