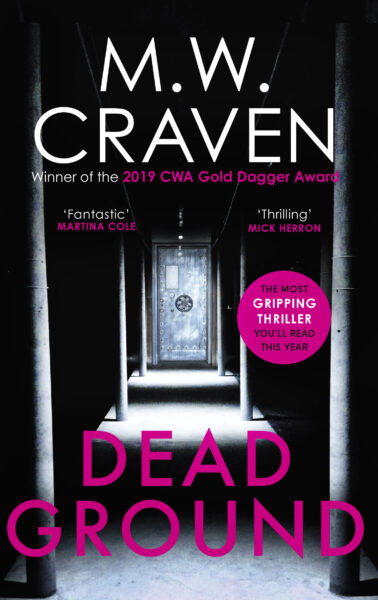 M. W. Craven
Dead Ground
M. W. Craven has really outdone himself on this one. The simplest way to describe this book is that you'll be led into myriad moments where you think you've worked out where the story is going to end, only to find that the thing you thought was going to be the dénouement happens in the next chapter and passes by like a twig down the rapids. Metaphorically, it's like trying to swat a fly; the story moves before you've even twitched.
So, let's dig in a little without spoiling any fun. Let's start with the characters. They are going to have to play the 12″ mix of the closing song when they roll the credits on what must surely be a Hollywood version of this book because there are lots of people in this story. From the bank heist, to the shadowy government agents, to the hotel preparing for a big event, there are people all over the place. For any mortal author, this would be a problem. We have all read a book where the machine-gun of names and faces leaves us stunned and confused, but Craven ignites all the key people with real-life force. All the personalities shine every time they talk, wink, or fake a case of IBS, so there is never a moment where you are wondering who is who.
As if chiselling out fists full of vibrant personalities wasn't task enough, the plot dodges like a gazelle. Once the scene has been set, the pace lurches into fast forward. This kicks in just before the half-way mark… and I challenge anyone to stop reading once you're pointing downhill. Not realising this would be the case, I found myself trapped for an entire evening and night as I couldn't stop (and I'm paying the price today!)
If you like a solid slice of crime fiction, with dollops of British humour and the best investigative duo in modern fiction, Dead Ground is a genre masterpiece that contains more a-ha moments than 'Headlines and Deadlines'.
Publisher's Synopsis
Detective Sergeant Washington Poe is in court, fighting eviction from his beloved and isolated croft, when he is summoned to a backstreet brothel in Carlisle where a man has been beaten to death with a baseball bat. Poe is confused – he hunts serial killers and this appears to be a straightforward murder-by-pimp – but his attendance was requested personally, by the kind of people who prefer to remain in the shadows.
As Poe and the socially awkward programmer Tilly Bradshaw delve deeper into the case, they are faced with seemingly unanswerable questions: despite being heavily vetted for a high-profile job, why does nothing in the victim's background check out? Why was a small ornament left at the murder scene – and why did someone on the investigation team steal it? And what is the connection to a flawlessly executed bank heist three years earlier, a heist where nothing was taken… (Synopsis)
Written by Fenton on
Steve Fenton writes in our music, words, and culture categories. He was Editor in Chief for The Mag and covered live music for DV8 Magazine and Spill Magazine. He was often found in venues throughout the UK alongside ace-photographer, Mark Holloway. Steve is also a
technical writer and programmer
and writes
gothic fiction
. Steve studied Psychology at OSC, and Anarchy in the UK: A History of Punk from 1976-1978 at the University of Reading.
Discover More Words