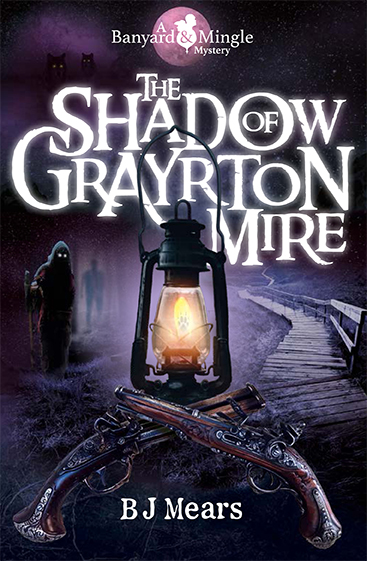 Shadowy deaths have long made Grayrton Mire a place of gruesome legend. But when a vulnerable boy is charged with the latest killing, Banyard and Mingle brave the treacherous marshes to defend him.
Confronted by suspicious locals and rumours of a terrifying beast, they stumble into a deadly conspiracy. With the clock ticking and ruthless authorities determined to protect their secrets, they will need associates Penney and Lizzy to risk their lives if they are to uncover the truth.
Can they save the boy and discover who – or what – lies behind the sinister legend? And will they survive a final night on the mire? (Synopsis)
---
The Shadow of Grayrton Mire is the third instalment of the Banyard and Mingle series. Set in a post-cataclysmic Earthoria, the series has a great kicker in being set in a future that looks like an alternate version of the past. Clockwork cars accompany horse-drawn carriages on the streets, with airships dominating the skies. Tricorns are falling out of fashion as toppers become the preferred way to dress a head, and a class-based system of working-class threaders and entitled silkers drives an undercurrent of increasing social tension. While Drakers brutally enforce a skewed interpretation of justice, war looms like a great cloud on the horizon.
Set against this backdrop, a murder on the mire is the small spark that ignites a giant story that spins up like a flywheel, as with each chapter the breadth of the mystery becomes apparent. Billy Lansdale, a local boy, is accused of the murder and – as a threader – is unlikely to receive a fair trial in a courtroom run for the benefit of silkers. In an attempt to save Billy from the noose, Michael Banyard takes on the case, hoping to find enough evidence to convince a biased jury of the boy's innocence.
The whole team take an active role in the investigation, with the two eponymous detectives being joined by their well-established assistants; Ebadiah, Penney, Lizzy, and Mardon (who is flickers of a Mycroft Holmes, though a doctor by trade). There's plenty of story elements in play, from lost items, secret compartments, and mysterious archaeology to flintlock battles, monster footprints, and some daring schemes! Meanwhile, Banyard attempts to contact an old acquaintance using a skull and Josiah Mingle buries himself in a cheap paperback.
The endearing thing about Banyard and Mingle is that the heroes aren't flimsy two-dimensional good guys; they make plenty of mistakes, they experience self-doubt, and they don't always do the right thing. While the importance of character flaws is beyond doubt, it is often applied with blunt force. Here, though, it is done with sophistication and this allows you to empathise with Michael Banyard, whose perspective lends a voice to the story.
Personally, I love the genre playfulness. It's part detective fiction with lashings of adventure. There are dark moments in the story, but the light moments are delivered equally well. There are even some sentimental tangents that further develop the strange relationship Michael has with his next-door neighbour. For sure, there's never a dull moment in a Banyard and Mingle book!