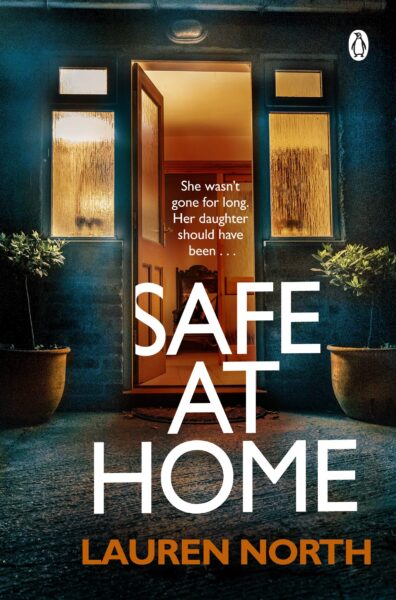 Lauren North
Safe at Home
It has become abundantly clear that Lauren North has insight and precision when it comes to crafting a psychological thriller. Landing in September 2021, 'Safe at Home' is an intense chest-pounder of a book with Anna and Harrie's stories interwoven as the truth gradually spills out. The character treatments in particular are finely sculpted, so expect to feel seen when one of these personalities is sharing their deep dark concerns.
The story launches pretty quickly, with Anna's backstory and family sketched in outline form. Very quickly, we arrive at the fateful events of the night that features so prominently in the book. Anna allows Harrie to stay home alone while she picks up Harrie's twin sister Elise. Delayed on the way home, we discover that something terrible happened while Harrie was alone.
It's then time travelling time as the main thread continues onwards, interlaced with chapters that take us back to the night in question, or that provide glimpses of the future in the form of newspaper interviews with prominent members of the community. Along the way other smaller events join the milieu, each contributing to the general feeling that things are spiralling out of control. As you put together all the pieces, it seems like you are solving two or three separate puzzles; and the fragments are all used to great effect as the story concludes. (As always, you'll find no spoilers here.) In short, the heavy events and intricate character rendering combine with, and enhance, the psychological suspense of this book.
Barton St. Martin may be a small village with a rhyming name, but the story fizzes through the streets, alleyways, and fields as if all the lies and secrets are phosphorus and truth is oxygen.
Publisher's Synopsis
Anna James is an anxious mother. So when she has to leave eleven-year-old Harrie home alone one evening, she can't stop worrying about her daughter. But nothing bad ever happens in the sleepy village of Barton St Martin. Except something goes wrong that night, and Anna returns to find Harrie with bruises she won't explain. The next morning a local businessman is reported missing and the village is sparking with gossip. Anna is convinced there's a connection and that Harrie is in trouble. But how can she protect her daughter if she doesn't know where the danger is coming from? (Synopsis)
Written by Fenton on
Steve Fenton writes in our music, words, and culture categories. He was Editor in Chief for The Mag and covered live music for DV8 Magazine and Spill Magazine. He was often found in venues throughout the UK alongside ace-photographer, Mark Holloway. Steve is also a
technical writer and programmer
and writes
gothic fiction
. Steve studied Psychology at OSC, and Anarchy in the UK: A History of Punk from 1976-1978 at the University of Reading.
Discover More Words