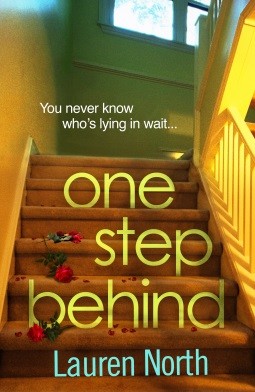 Lauren North
One Step Behind
Lauren North is a writer of psychological suspense novels and One Step Behind is a lightening-rod of anxious suspense. There is little pause for breath as the creeping tension gives way to heart-pounding threat as the lives of Jenna and her family crumble beyond control.
This book is a rare example where the flow of the story seems to draw you ever higher through those emotional gears, which creates a sense of ever-building tension rather than the rising and falling of gradually increasing waves. This mirrors the storyline well, involving readers in the unending fear that the main character, Jenna, is experiencing.
So, what does the story offer? Amongst the thread of Jenna being watched, harassed, and the initial twist of finding her stalker thrust into her care as an emergency doctor, there are flashes of everyday life that ground the story in a world we all find familiar. The stresses and irritations of school runs, relationships, families, and work all play out beneath the story. It makes it feel rich with reality. Jenna is surrounded by rich characters, all with recognisable personalities, who all respond to the situation in their own way.
The parallel lines in this story are all clearly on a trajectory to smash together terrifically as you approach the end, with enough bobbing and weaving to send your brain down a few dead ends to keep you guessing.
Prepare yourselves for the prickling of the hairs on the back of your neck as you share the tensity, frustration, and resolution of One Step Behind.
Publisher's Synopsis
Jenna is a wife, a mother, a doctor. She's also the victim of a stalker. Every time she leaves her house, she sees him. Disturbing gifts are left at her door. Cruel emails are sent to her colleagues. She has no idea who this man is but she feels powerless against him. Until the day he is brought into her hospital after a serious accident, and Jenna is given the chance to find out once and for all why this man is tormenting her. Now, the power is all hers. But how many lines is she willing to cross to take back control of her life? (Synopsis)
Written by Fenton on
Stuart 'Saur' Smith was a prolific writer for The Mag throughout the magazine's lifetime. He combined a day job of temporary office jobs in London with a nightlife of trawling the capital's music venues looking for talent. As well as writing about music, he was a session musician who featured on a number of singles in the 90s. Today, Stuart is a Chief Writer for Phonotonal.
Discover More Words